Art Center alum Jason Hill, a human factors researcher and industrial designer, is part of a four-person, interdisciplinary team that won the $10,000 Grand Prize in the MIT Accelerate Contest, for a prosthetic socket designed to change its shape throughout a patient's lifetime.
Hill and his team have formed The BETH Project (Benevolent Technologies for Health), dedicated to developing high-impact, low-cost healthcare solutions for underserved populations. Their February 19 win over seven other teams qualifies The BETH Project for a spot in the series' final round, the MIT Launch Contest, whose top prize is $100,000. The results of the Launch Contest will be announced May 15, 2013.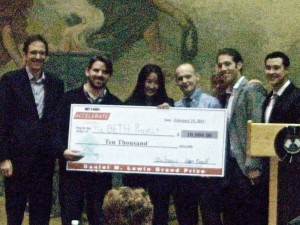 According to BostInno, an online news site focused on innovation in Boston that reported on the competition, The BETH Project's patent-pending socket technology, using rigid yet re-moldable materials, "will be able to provide significant savings to prosthetic care providers, all while providing patients with superior comfort."
Hill began his Art Center career in 2001 when he started taking courses in the College's Art Center at Night program to build up an admissions portfolio. He was accepted into the degree program in 2005, and in 2009 he graduated with honors from the College's Product Design program, while completing a joint-study program in business administration at INSEAD Asia Campus, Singapore.
He first met his collaborators in what became The BETH Project—Elizabeth Tsai, Asa Hammond  and Ramin Abrishamian—at a "Hacking Medicine" event at MIT. Their prosthetic socket design also garnered a runner-up prize in last year's Dyson Award and the team is currently looking for investors.
Related: