TEDxYouth served up generous helpings of Brain Food at California Institute of Technology in Pasadena. Among the cooks in the kitchen: Art Center Trustee Bill Gross; Professor and Director of Sustainability Initiatives Heidrun Mumper-Drumm; and Product Design alumna Mariana Prieto, who completed the Designmatters Concentration in Art and Design for Social Impact.
The day-long event took place January 19, 2013, and 8-minute videos of the talks were recently made available online. If you have an appetite for fresh ideas, watch!
A Perfect Storm of Opportunity: Bill Gross at TEDxYouth@Caltech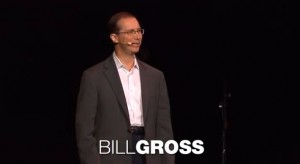 Bill Gross is a lifelong entrepreneur who has been starting companies since he was 12 years old. He has personally started more than 100 companies in the last 42 years, of which more than 40 have gone public or been acquired. Gross is the Founder and CEO of Idealab, a "company factory" based in Pasadena, which he started in 1996. Gross is credited with starting the first online business directory company with CitySearch, the first online car retailed with CarsDirect, the first paid search engine with Goto.com/Overture, and the longest-running technology incubator where he has been the creator of all these companies. A graduate of the California Institute of Technology, Gross currently serves on its Board of Trustees. He also serves on the Board of the Art Center College of Design, and more than 20 technology companies in California.
Ideas on Sustainability: Heidrun Mumper-Drumm at TEDxYouth@Caltech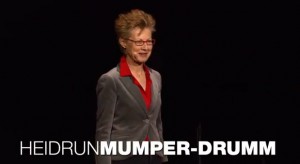 A graphic designer, Heidrun Mumper-Drumm is a Professor and Director of Sustainability Initiatives at Art Center College of Design. Since 2003, she has focused on developing a design curriculum that teaches a lifecycle assessment methodology and integrates sustainability into the design process. This comprehensive approach expands both the context and the purpose of design, allowing the designer to address the multiple goals of form, function and sustainability. As a former environmental engineer for Bechtel and Parsons Engineering, her background includes nuclear, geothermal, and solar and wind energy projects, as well as environmental management for NASA and the US Air Force. Mumper-Drumm speaks and conducts workshops for professional organizations and companies, and helped develop the sustainable product and service selection guidelines for the Sierra Club Green Home website. In addition to teaching, she is engaged in research to develop a methodology and tools for the integration of lifecycle thinking into the design and development of sustainable products and services.
Design is a Way of Thinking: Mariana Prieto at TEDxYouth@Caltech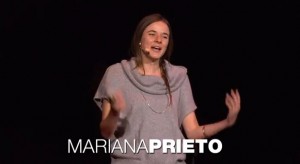 Mariana Prieto is an experience and strategy designer with a focus on design for social impact. She has applied her multicultural background and passion for people and travel towards finding solutions that are empowering, beautiful and culturally appropriate. She graduated with honors from Art Center in 2012, with a BS in Product Design and a Designmatters Concentration, the school's social impact minor. Prieto was the co-lead and license holder for the first-ever TEDx event at Art Center. She also works with creativity and design workshops meant to inspire those that are not in the design field to find their creative spark when they need it.