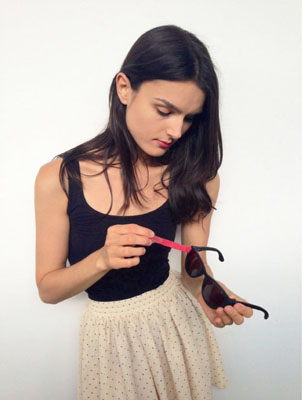 Somewhere in some secret underground research facility an engineer is probably developing a pair of nanotechnology-infused lenses that will make cleaning our sunglasses a thing of the past.
But until that day becomes a reality, we'll have to make do wiping our shades with napkins, T-shirts or whatever abrasive cloth we can find in the moment. Right?
Not if Patrick McCrory has anything to say about it.
Today, the Interaction Design student is launching a campaign on crowd-funding platform Indiegogo for his project Ribbon Sunglasses, which feature a retractable microfiber cloth tucked away inside the frame.
The concept lands squarely in "How has nobody thought of this before?" terrain, in that it offers a deceptively simple solution to a problem nearly everybody can relate to. But the journey McCrory's project has taken from initial idea to crowd-funded campaign is far from straightforward.
McCrory began studying at Art Center in the fall of 2012, but the idea for Ribbon began years earlier in Silicon Valley, where he was working with some friends on a software company and trying to make it as an entrepreneur.
Walking one day through the streets of San Francisco, McCrory needed to clean his glasses and was annoyed that he was missing his microfiber cloth. "It always happens," says McCrory with a laugh. "But at the moment I thought, maybe there's a way to fix this problem by combining the frame and the cloth together."
After drawing up the plans, he began spending his nights and weekends in a 24-7 hackspace in San Francisco. The shop had a few low-quality 3D printers and some archaic software with which he could begin prototyping his concept. "I was using a CAD program where you had to actually write out the code to label the points in the 3D space," says McCrory. "It was absurdly hard and took me forever. But I was able to make the first prototype there, which ended up being these huge, blue owl-like frames."
Blue because it was the only material available at the hackspace. And huge because he initially thought the mechanism containing the retractable microfiber cloth would be quite large and would need to be hidden behind supersized Hollywood-style oval glasses. "That's actually been the biggest challenge of this project, making the glasses smaller and smaller," says McCrory. "I had to find a style that could integrate the retractable functionality but still looked like a good pair of sunglasses."
When McCrory learned that Art Center was starting up an Interaction Design program, he came down to visit the campus and liked what he saw. And the fact that the College offered rapid prototyping classes and its facilities included 3D printers and laser cutters sealed the deal. "I was, and still am, very much about these glasses," says McCrory. "And I knew at Art Center that I would have access to things that would help me get them made."
His very first term at Art Center, McCrory enrolled in Javier Palomares' Rapid Prototyping, a foundation class primarily for third term Product Design students that focuses on turning sketch into actual physical models using the 3D CAD design software program SolidWorks. "There are definitely challenges for students who take the class who are non-Product Design majors," says Palomares with a smile. "But a couple guys have been brave enough to take the class."
In Palomares' course, McCrory furthered his Ribbon project by experimenting with a lot of color compositions and shapes and asked as many people as he could for feedback. "Asking classmates 'Will this work?' or "Will this not work?' is a really great tool," says Palomares. "It's inexpensive and a good way to find out whether you're heading in the right direction."
Throughout the course, McCrory created 10 different prototypes—with no less than five major body styles—before landing on the current iteration, for which he's now seeking $20,000 in funding to take to the next level of mass production. "There were a lot of variables and challenges that Patrick needed to work out," says Palomares. "Sometimes something on paper looks fine, but when you're actually testing it, it's a different story."
Palomares is clearly proud of his student and his ambitious project. "First of all, it's a great idea," says Palomares. "For Patrick to come to this from a coding background, which is a whole different world, and approaching it from a product design standpoint is remarkable. Second, his glasses look like a regular pair of glasses, but they're not. He has very successfully incorporated the mechanism into the design. Just the fact that you can pull out this ribbon, clean your lenses, and it all works, is really great."
McCrory has set up a number of rewards for backers of his project. A $5 pledge nabs you a digital behind-the-scenes process book on the making of the sunglasses, while pledges beginning at $60 will include a pair of Ribbon sunglasses with a microfiber cloth in the color of your choice.
"I think it will be successful," says McCrory when asked about whether he's nervous about launching his project on Indiegogo, a step he's been anticipating for months. "But no matter what happens with the crowd-funding, I can look at, touch and feel these sunglasses and know that they'll be popular. So I'll have to push it through, one way or another."