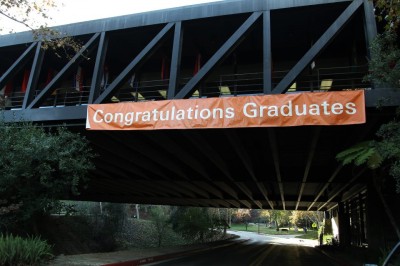 With the all-nighter intensity of finals safely in the rear-view mirror, excitement mounts as Summer Term 2013 graduation week gets underway. Here's an overview of the campus agenda, which teems with an array of culminating events showcasing the handiwork of the creative talent pool about to flow into the marketplace.
Thursday, August 15
Industry leaders and professionals, employers, corporate partners, donors and alumni will get the first look at the Summer Term's graduating artists and designers at this year's invitation-only Graduation Show Preview. The show will feature student projects from major fields of study at Art Center, including Advertising, Entertainment Design, Environmental Design, Film, Graphic Design, Illustration, Photography and Imaging, Product Design, Transportation Design, Graduate Industrial Design and Graduate Media Design Practices.
Graduation Show Preview will be held at Hillside Campus from 6:00 to 9:30 p.m., with a private reception hosted by Alumni Relations immediately following.
From 3:00 to 5:00 p.m., Graduate Media Design Practices will host a lab research discussion followed by an exhibition and reception, from 5 to10 pm, in honor of this term's cohort of graduates, which includes the program's first Field Track students. These events take place on South Campus (950 Raymond) and are open to the public.
Saturday, August 17
Join us in the Sculpture Garden at Hillside Campus from 5:00 to 7:00 p.m. for our graduation ceremony. Cross-disciplinary faculty member and alum, Richard Keyes — who teaches popular classes in color theory, design principles and narrative structure — will deliver the commencement address. We will also hear from valedictorian and Environmental Design student, Rosa Tsaihua Lee and present the Art Center Student Leadership Award to Photography and Imaging student, Kate Marie Buntsma.
After the ceremony, Graduation Show opens to the public from 6:00 to 9:00 p.m., where work by the newest Art Center graduates will be on display. In addition to Hillside Campus activities, Graduate Art and Graduate Media Design Practices will host  a Graduation Show at South Campus from 6:00 to 11:00 p.m.
Free valet parking will be provided at the Hillside Campus from 6 – 10 p.m.  Self-parking will be available at South Campus throughout the evening.
Congratulations to our Summer Term 2013 graduates!