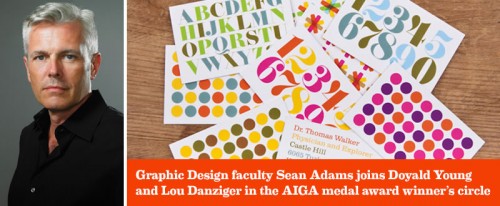 Art Center faculty member Sean Adams and his partner Noreen Morioka are among a special class of design leaders being awarded the prestigious AIGA Medal–the highest honor of the design profession–by the noted professional association, which represents and advocates for a broad range of design disciplines. The AIGA Medal has been awarded since 1920 to individuals in recognition of their exceptional achievements, service and contributions to the field of communication design.
Sean Adams is a partner with Noreen Morioka at AdamsMorioka. Since 1994, AdamsMorioka's driving words of "clarity, purity and resonance" have guided their work. Among the projects showcased by AIGA in announcing the award, is work for clients such as UCLA, The Getty Center, Academy of Motion Picture Arts and Sciences, Nickelodeon, Annenberg Foundation and Sundance Institute.
Adams is an author of multiple magazine columns and several best-selling books. His blog, burningsettlerscabin, has been cited as one of the ten best design blogs in the United States. In 2013, he became an on-screen author for Lynda.com, a highly successful online training library founded by Art Center alumnus Bruce Heavin and his wife, former faculty member, Lynda Weinman.
Sean was named an AIGA Fellow in 2006 and has also served as president of AIGA Los Angeles. Currently co-president of AIGA, Adams is the only two-term AIGA national president in the organization's 100-year history.
Sean joins a legendary group of other Art Center faculty members and alumni who have received the AIGA Medal, including Lou Danziger (1998), Kit Hinrichs (2004), James Miho (2004), Tomoko Miho (1993) and Doyald Young (2009). [Note: Year indicates date Award issued.]
The 2014 AIGA Medals will be presented on April 25 in New York City at "The AIGA Centennial Gala," a gathering of hundreds of design professionals and enthusiasts to celebrate AIGA's centennial and recognize the contributions of Sean and other design visionaries.