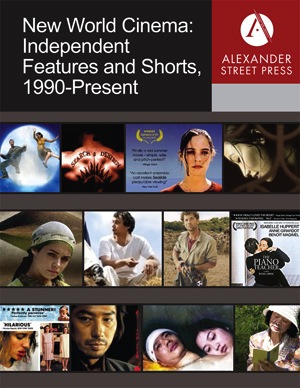 Back in the old days the only way to see a film was to wait for it to play in your local theater. If you missed it: Tough luck. You lost your chance. Then home video – videotapes, laserdiscs, DVDs, Blu-ray discs — came along and changed all that.
This advent seemed to make film viewing much more convenient. Or did it? Sometimes the movie you want is checked out. To borrow a DVD from the library, you still have to leave the house and go someplace. And then there's always the risk that the disc might be scratched. It's enough to drive a person crazy.
Well, all of that is about to change. It's time to say goodbye to those hassles now that the Art Center library has just acquired a massive streaming video subscription called Alexander Street Video! This collection currently contains 26,000 videos. All of the films have been shown at major festivals and thousands are award winners. The collection includes films by many of the world's leading contemporary directors, including Michael Haneke, Wong Kar-Wai, Andrei Zvyagintsev, Koji Wakamatsu and Jean-Luc Godard.
Some of the most interesting films hail from Asia. The Art Community will have access to work by acclaimed Chinese director Xie Fei (Black Snow; Woman from the Lake of Scented Souls; A Mongolian Tale), Iranian new-wave director Dariush Mehrjui (The Cycle; The Lodgers; Mum's Guest) and leading Indonesian director Garin Nugroho (And the Moon Dances; A Poet; Bird Man Tale).
Want to learn more about cinema history? Alexander Street Video includes many works from legendary filmmakers such as Georges Méliès, Buster Keaton, Fritz Lang, Charles Chaplin, F.W. Murnau, Luis Buñuel, Ernst Lubitsch and many others.
The collection also features a wealth of acclaimed documentaries showcasing innovations in art and architecture. Key works from this category include: Beyond Utopia: Changing Attitudes in American Architecture, which focuses on postmodernist architecture through the lens of Philip Johnson and his protégés; Mind Over Matter, capturing interviews with six conceptual artists as they discuss their work on exhibit at the Whitney Museum; and Art in an Age of Mass Culture, a film conceived as a response to the much discussed Museum of Modern Art exhibition High & Low: High Art and Popular Culture.
Other topics covered in Alexander Street Video include black studies, American and world history, theater, dance, LGBT studies, current affairs and more.
To access the collection, visit the library website's Online Resources page from anywhere on campus using the secure campus network (ACCD, not ACCDPUBNET). To view from home, you'll need a library account that includes your seven-digit ID number and library PIN.
With Art Center expanding programs to two separate campuses, the library is looking for innovative ways to be in two places at once. Streaming video is a great way to provide resources to students and faculty no matter their location, which begs the question,
What kinds of movies would you like to see streaming from the library website?