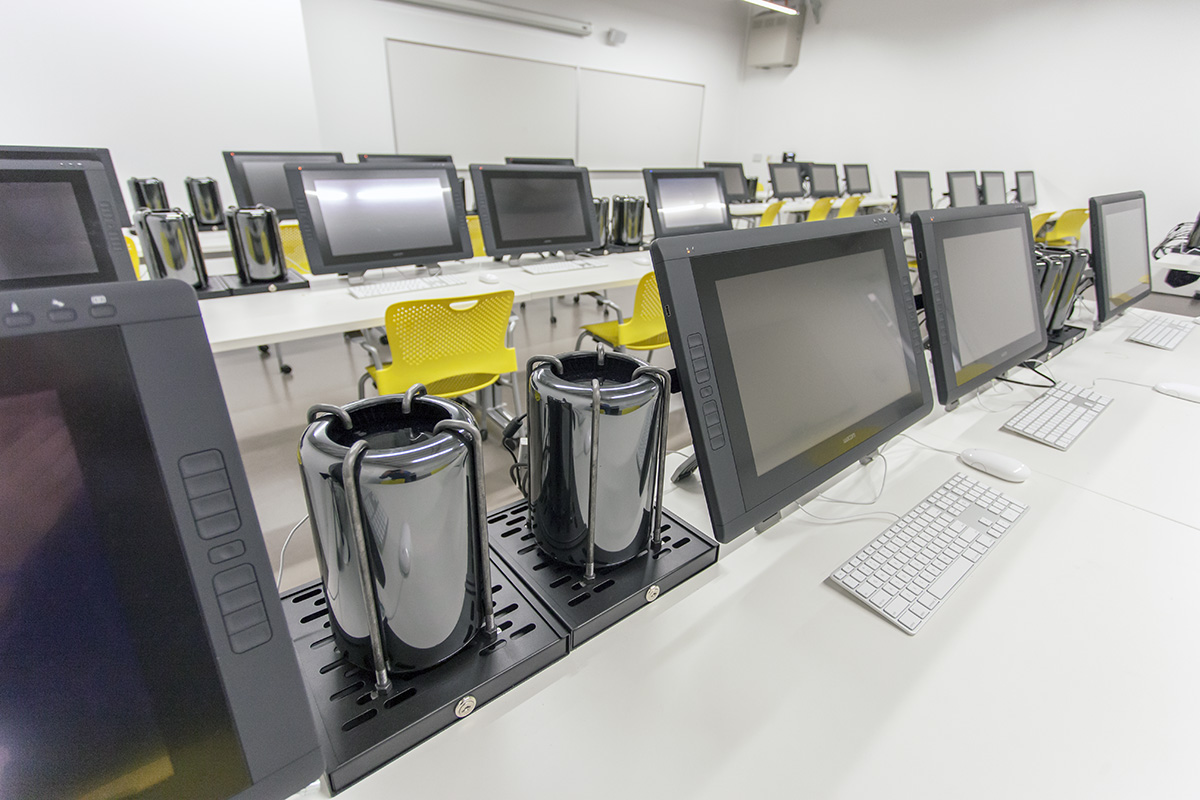 Like a fleet of alien spacecraft, over 50 new Mac Pros have landed at 870, melded with the network and firmly attached to new Wacom Cintiq touchscreen monitors. To the delight of Illustration and Fine Art students, these strange new digital organisms have taken root and are ready to start turning out some serious teraflops (1 Trillion floating-point operations per second)!
The new Mac Pro has been eagerly anticipated since its announcement last year at The Apple Worldwide Developers Conference (WWDC); and it represents the next wave in desktop computing, boasting dual GPUs, PCIe flash storage, high-performance Thunderbolt 2 peripheral connectivity, new-generation Xeon processors, ultrafast memory, and support for up to three (count 'em, 3) 4K monitors (That's… ehem… over 24 million pixels at up to 60 frames per second = over 1 Billion pixels per second).
Though modestly configured with only 6-core Intel Xeon E5 processors, 16GB of RAM, 1TB of flash storage and 6GB of VRAM, these babies will fly circles around Art Center's previous Mac Pros. And if that's not enough tech jargon, check out Apple's official Mac Pro website for the full story.
When word of their arrival at Art Center leaked last week via Instagram (make sure to follow us), the geek envy was both immediate and intense. Here's a sampling of the comments posted by coveting followers:
"Send some of that to hillside!"
"Want some for transportation."
"My god… that's insane!"
"Damn…"
"Wow"
Students at the Hillside campus will be happy to know over 200 of these compact powerhouses will be invading the Mac Labs during the break. By the beginning of the Summer term they will have taken over completely. With all the time you'll save on your renders you may actually get some sleep.
Are you ready for your close encounter with the future of computing? More importantly, how will you deploy your super powered machine to take your work to the next level?