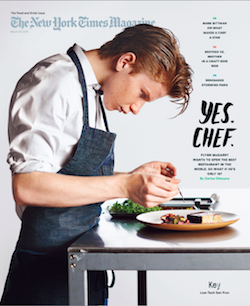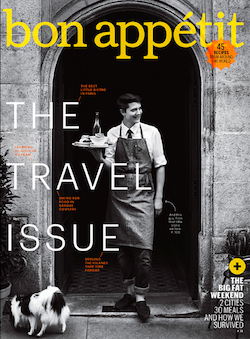 Taylor Peden and Jen Munkvold met as Photography and Imaging students at Art Center, fell in love and in 2006 teamed up creatively as Peden + Munk. This inspired partnership now counts among its credits photo essay-style editorial and commercial work — including covers — for Bon Appétit, Sunset Magazine, Glamour, GQ, Food and Wine, The New York Times Magazine, Langham Hotels, William Sonoma and Crate & Barrel and other major companies and magazines, chefs, restaurants and hotels.
Just in time for summer, the pair's trademark color-saturated, sumptuous food photography can also be seen in The Grilling Book: The Definitive Guide from Bon Appétit; Sweet, by Los Angeles-based baker Valerie Gordon; and A New Napa Cuisine, Peden + Munk's most recent collaboration with three-star Michelin chef Christopher Kostow, is forthcoming in October from Ten Speed Press. They also recently launched their motion work with this piece for Bon Appétit, profiling Martha's Vineyard restaurateur, Chris Fisher.
Art Center: Your professional partnership began at Art Center. How did that come about?
Taylor Peden: It was something that was really organic. We're obviously a couple, but that relationship came before the shooting relationship. I was doing car photography and Jen was more into still life and food. It really all came together when we took [noted photographer] Paul Jasmin's class. He was a huge, huge inspiration for us. In his class we both were doing something we weren't doing in our other classes. We were shooting fashion and portraiture and we just kind of teamed up. And every week we were trying to outdo ourselves and impress Jas. By the time we were doing our Grad Show, there were three separate entities: Taylor Peden Photography, Peden + Munk—which is our business now—and Jen Munkvold Photography. Peden + Munk just had a certain vibe to it and probably a year out of graduation we really focused on that. And everything just changed from there. We got into the restaurant world and started shooting a lot of chefs and restaurants and hotels and portraits, and then started working for Bon Appétit and GQ. It's been kind of like this snowball effect.
AC: Taylor, you're originally from New York, and Jen, you grew up in Minnesota. What brought each of you to Art Center initially?
Jen Munkvold: I moved out to California and went to Brooks Institute for two years. As the program went on, I just realized that it wasn't creatively making me happy and I wanted to be pushed a bit further. I applied at Art Center and was shocked and happy to have been accepted. I noticed one difference between Art Center and Brooks: the focus of the students and the people there was just completely different. When you walk through those hallways you get a sense of passion. It's really amazing.
TP: My dad's a photographer and my mom was a creative director at Elizabeth Arden, so it was a really interesting environment to grow up in. I started taking photography as an elective in elementary school and got more serious in high school. I had figured out that I wanted to go to some kind of art school, and I checked out all the schools on the East Coast, and then went out to the West Coast. Art Center was, I think, my last stop. Immediately walking in the door, it just felt right. It had the vibe of an amazing, creative environment.
AC: What did you learn at Art Center that made the experience successful for you and that has most benefited you as you've moved forward in your creative lives?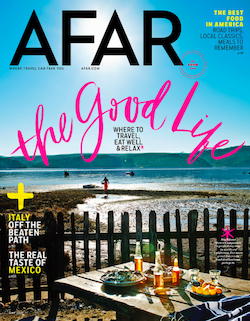 JM: We sat down recently with a friend we went to Art Center with and we just talked about how amazing it is to meet creative people you can really mesh with, get inspiration from and ask questions of when you are stuck. That to us is the most important thing that we took out of Art Center by far: the relationships with our core group of friends. And it's funny, as we go to meet with advertising agencies, almost immediately people know that we have graduated Art Center. And a lot of times, if the ad agency people have as well, it's just this automatic bond and trust level that you have knowing that someone else went through this rigorous, crazy program that really made for some amazing creative calls.
TP: And definitely, the discipline. That was the biggest thing for me: the respect that you got from your peers, like Jen said, and the attitude that people had towards doing their work. It was competitive, but it was competitive in a good way. And if it weren't for Art Center we wouldn't have met each other, so that's definitely one of the most important things in our lives.
AC: What is your creative practice like today?
TP: It really depends on the assignment. The one thing we love to do is tell stories and that's what we started doing in Jasmin's class. Some of our favorite assignments are when we're completely left to our own devices and we're in the middle of back country Memphis at some funky barbecue joint and we're able to meet the people and hear a little bit about their life stories. And then we kind of construct this shot list on the fly, capture the images, come back to our studio, edit and weave a narrative thread through the images and create photo essays.
Our advertising work is different.  We try to impart as much creativity to it as possible, but working with clients and agencies is more limiting than when we have complete creative freedom.
AC: You maintain offices in LA and New York?
TP: We have a studio in New York and we have our loft studio here in L.A.
AC: You've worked with top magazines and you've done editorial commercial work for high profile companies. What do you consider your most significant achievements so far?
JM: We have three or four ad clients and many magazine clients that are coming back, and there's no better feeling than knowing that we not only got the job the first time, but we did everything we could to have it be successful, and that came back around to us. I definitely feel proud when that happens.
TP: One of our first stories that we did for Bon Appétit was about a farm and restaurant up in Los Gatos called Manresa Restaurant. That was a game-changer for us. We love all the work that we've done with Bon Appétit. And I'm really excited about the cookbook we did with the restaurant at Meadowood and chef Christopher Kostow that's coming out in October [2014] from Ten Speed Press.
JM: The amazing thing about that project is that from the get-go it was a collaboration.
TP: It's not just a cookbook. We really got to tell a story of the Napa Valley, of the artisans that live there, all these cool potters and artisans that make art for the restaurant or make the vessels that the dishes are served in.
AC: What advice do you have for students who are thinking about enrolling in the Photography and Imaging program?
JM: I think that the only way you can be most successful is if you're passionate about it and want to spend morning, noon and night working diligently to create. If you have the passion, that just comes naturally. And it's so rewarding in the end.
TP: Prepare to work hard. What you put into it is what you get out of it.  That was the big thing for me at Art Center. If you didn't have time for a certain assignment and you couldn't put your all into it, you really didn't get the response and the feedback that you need as a growing artist.  So yeah, that would be my advice, stick to your guns, be open to anything and be prepared to work your ass off.
—Lynne Heffley is a Los Angeles-based freelance journalist who writes about the arts.