Pretty Hurts (Art 257) started out as a class that stirred debate and outright defiance both within Art Center's student community and online publications. As the instructors of Pretty Hurts we would like to highlight the outcomes of the course as well as the projects that originated as a result of the class and how the ideas discussed fractured away from the class to influence Art Center College of Design's student and faculty community.
This course combined seamlessly theory and philosophy rooted in art making and feminism with pop culture issues involving feminism. Each class was a discussion of the ideas and theories read the night before, juxtaposed with contemporary artists and media dealing with relevant issues like gender inequality and violence against women. The discussions were heated at times and we had a safe zone, so-to-speak, to wrap our minds around tough and heart-breaking ideas that spanned the gap between genders.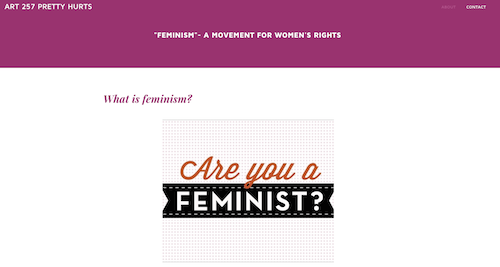 With the overarching themes being aimed at clarity in creating—the audience and content married with form—students' work followed a motif of constant change. By the time we arrived at the midterm, students were ready to take on issues of great importance while testing the boundaries of installation and collaboration.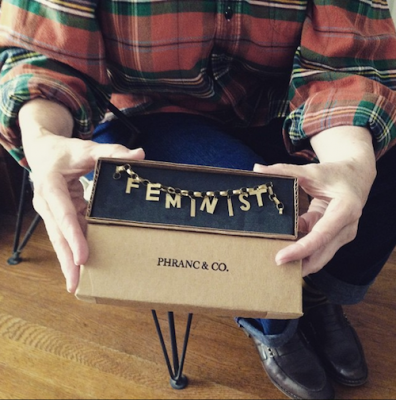 Artist Robin Mitchell shares her stories as one of the original members of Womanhouse with Judy Chicago.
#Womanhouse Midterm Project
This was the collaborative midterm project and an analysis of contemporary feminist issues which existed both in real space and on social media. The students were encouraged to host an opening reception that included performances and was attended by important key figures of the black feminist contemporary art movement here in LA, Chelle Barbour, the first woman of color to be named the Executive Director of a contemporary Los Angeles-based art gallery (Autonomie Projects). Students went to Compton and other underrepresented locations in Los Angeles as well as hyper-privileged locations to interact with people and have conversations (both in person and via social media) dealing with ideas around pop culture feminism and current women's issues.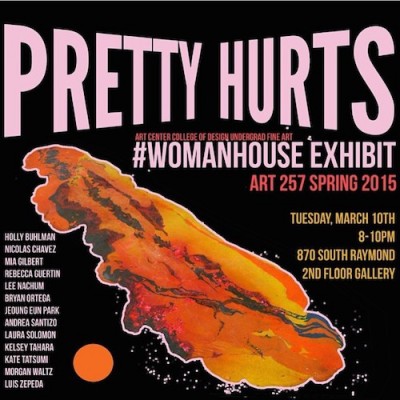 #Womanhouse was also a collaborative group project and some students developed a communal and support-oriented connection drawing off of the communal aspect of the original Womanhouse project.  Students organized an opening for their midterm projects, which included a performance by Fine Art student Luis Zepeda, where he asked guests of the exhibit for their legal names and instead of writing their name on a label he wrote surface and ignorant "labels" describing someone's skin color and whether they looked "boring," "stuck up" or "overweight". The entire evening was immersed in contemporary issues within the feminist movement and how this generation coming up on social media is handling very real and very relevant issues of gender inequality and even queer issues domestically and globally.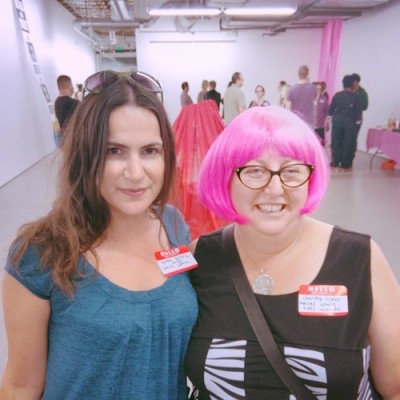 Artist Kristine Schomaker (right) attends the #Womanhouse opening.
Tangential projects fractured away from the class as students became engrossed in carrying on their own activism outside of the classroom. Fine Art and PH student Bryan Ortega worked with the Art Center library and Simone Fujita to produce Neither Truth Nor Lie a queer zine workshop. "Neither Truth Nor Lie" refers to a line from a poem written by Langston Hughes that he contributed to the independent publication (zine) FIRE!! Devoted To Younger Negro Artists (1926). The FIRE!! Zine was envisioned as a way to give voice to lifestyles and new ways of thinking that were not supported in more mainstream African American publications at that time.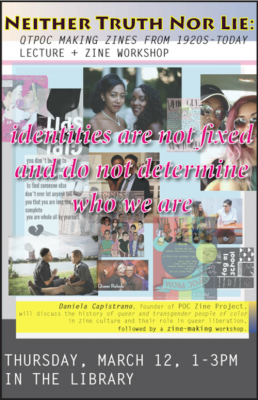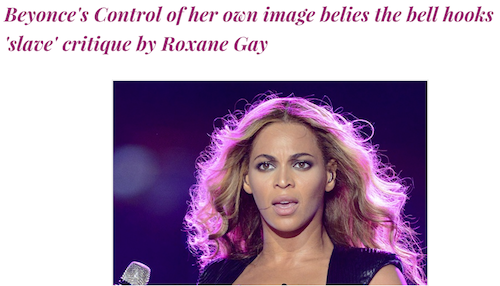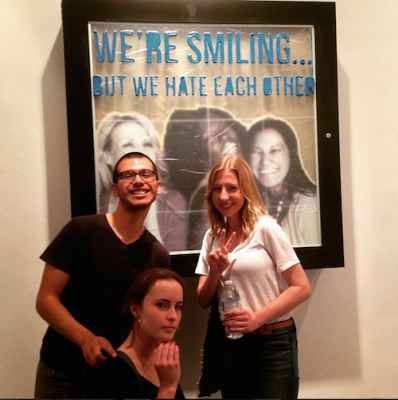 Pretty Hurts students Bryan Ortega (left), Morgan Waltz (center) and Mia Gilbert attend a feminist exhibition We Choose Art: A Feminist Perspective Curated by: Kristine Schomaker and Art Center Alumna Baha Danesh  including instructor April Bey's newest feminist installation of sexist memes from the internet.
By the end of the term, each student had broadened his/her practice to include a wider range of forms, such as social engagement, performance, installation, internet-based, and collaborative work. The camaraderie among students was tangible: they formed deep bonds while tackling issues of both personal and global scale. Given the opportunity to think about their artwork within a broader sociopolitical context, students exhibited tremendous willingness to push themselves intellectually and artistically to new heights. From the very first day of class, students were aware that they were taking part in something groundbreaking at Art Center. They took on that responsibility with zeal, and created a collegial environment that surpassed every expectation.
—April Bey and Ariel McCleese