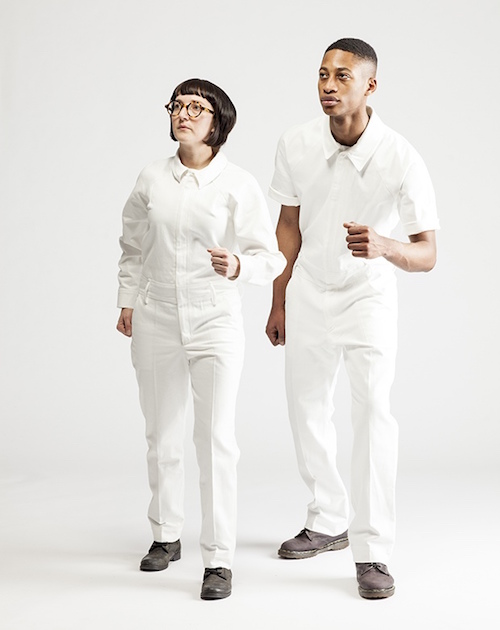 A spectre is haunting fashion — the spectre of JUMPSUIT. Fine Art Adjunct Instructor Maura Brewer and Rational Dress Society co-founder Abigail Glaum-Lathbury are bringing the people a new voice for non-choice. Curious? The Dotted Line caught up with Brewer in between lectures in Sweden, guerrilla actions at fashion week in NYC and her successful Kickstarter campaign to find out more about the project.
Dotted Line: Why JUMPSUIT?
Maura Brewer: We at the Rational Dress Society believe that fashion has reached a turning point. In 1985, 70% of Americans' clothes were made in the USA. Now, in 2015, that number has shrunk to 5%.1 This is a direct result of the neoliberal economic policies of 1980's and 90's, which led to mass deregulation and the domination of the fashion industry by a handful of multinational corporations.  Historically, the industry operated on a six-month production schedule. Now, with the advent of fast fashion purveyors like Zara and H&M, a garment goes from conceptualization to store shelves in as few as three, or sometimes two weeks.2 In order to meet global demand, H&M outsources production to over 1800 individually operated factories in countries as diffuse as Cambodia, India, China, and Bangladesh.3 In Cambodia, women working in factories for $0.50 per hour are subject to mass fainting spells, denial of pay, discrimination and sexual harassment, among other abuses.4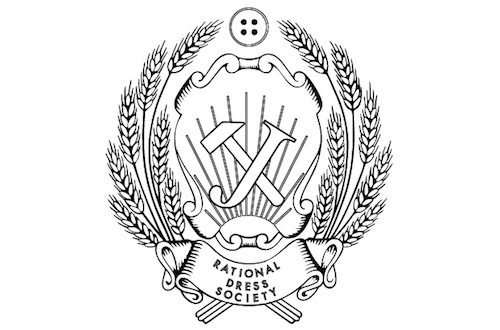 Consumers are also adversely affected by these policies. Fast fashion purveyors (including Zara, H&H, Forver 21 and Topshop, among others) employ a model of planned obsolescence, in which a garment is expected to retain its value for a maximum of ten wash cycles, thereby inducing consumers to keep apace with their accelerated cycles of production.5 This has led to a bifurcated system in which our only choice is between low cost, fast fashion, or high-end luxury brands, with very little middle ground.
We believe that this system is unsustainable. JUMPSUIT urges you to reject choice, but it might be more precise to say that JUMPSUIT rejects the idea of choice. The ability to purchase one of a dozen mass-produced garments is not a choice at all; it is the foreclosure of possibility. And that foreclosure is rebranded and sold back to us as self-expression, or art, or fashion. JUMPSUIT offers a way out: an open source, ungendered monogarment to replace all clothes in perpetuity.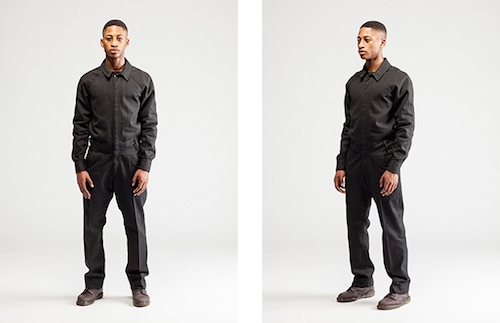 How did the idea for JUMPSUIT occur?
Abigail and I hail from a long line of reformers. The Rational Dress Society was founded in London in 1881, with the goal of liberating women from the bondage of their corsets. The sisters of the RDS established a worldwide network of sleeper cells, underground nodes that still, to this day, come to life in times of need to combat the forces of irrationality everywhere. When Abigail and I turned 18 we were inducted into the RDS Central Administrative Offices, where we found common cause in our passion for all things judicious. Our first order of business was to move RDS headquarters to a garage in Palo Alto, California. It was there that JUMPSUIT was born, rational dress for a new generation!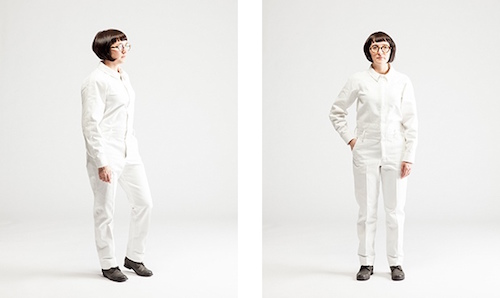 What's next for the Rational Dress Society?
The Rational Dress Society adheres to the fashion calendar, presenting new lines to coincide with major industry events, including Fall/Winter, Spring/Summer, Holiday, Resort and Pre-Fall. Each of these collections will feature a single item: JUMPSUIT.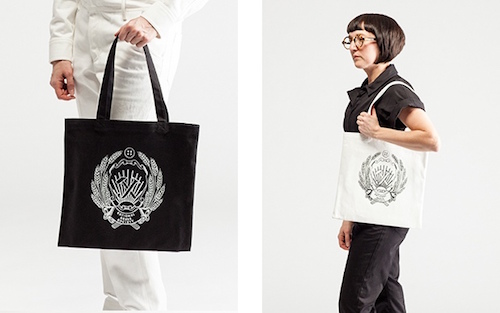 What's your strategy for making JUMPSUIT viral?
After many hours of careful analysis, we at the RDS have determined that the most effective strategy for counter-attack (or "viral marketing," as you call it) is to quietly stand in front of fashion events holding a medium-sized sign. Thus, our message of liberation will be disseminated to the masses!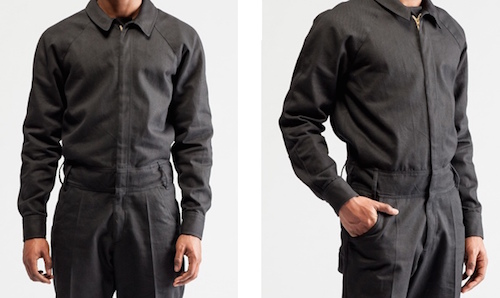 What has been the biggest challenge with Jumpsuit?
We at the RDS are particularly proud of our Anthropometric Sizing System, which represents a completely new system for fitting garments. Typically, clothes are designed for fashion models, and then sized up or down accordingly. We recognize that bodies are unique and highly variable, and so, using publicly available anthropometric data collated by NASA, we have produced a new sizing system. Our system is ungendered, and based on three basic body types, A (in which hips are broader than shoulders), V (in which shoulders are broader than hips) and I (in which hips and shoulders are consistent). From these base patterns, 120 sizes are extrapolated, meaning that JUMPSUIT, while mass-produced, is highly customized to your body.
Additionally, we have worked to insure that all that materials for JUMPSUIT are made in the USA, from fabric, to thread to zippers. Zippers were particularly tricky to locate, but we found a single company, operated out of Los Angeles, who is supplying us. At the RDS we endeavor to make an ethically produced garment that is truly available to all.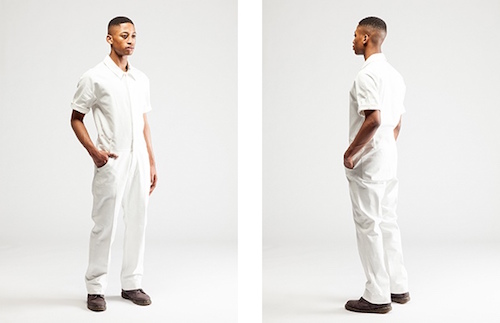 How does JUMPSUIT relate to your broader body of artwork?
Clothes are the interface between the individual and the social realm. As such, dress reform has long been a cause for feminist artists and cultural producers everywhere. Abigail and I understand our work within the broader context of feminist inquiry. Whether the medium is video, painting, installation or fashion, the goal is the same – to produce a space for critical engagement with the structures of daily life.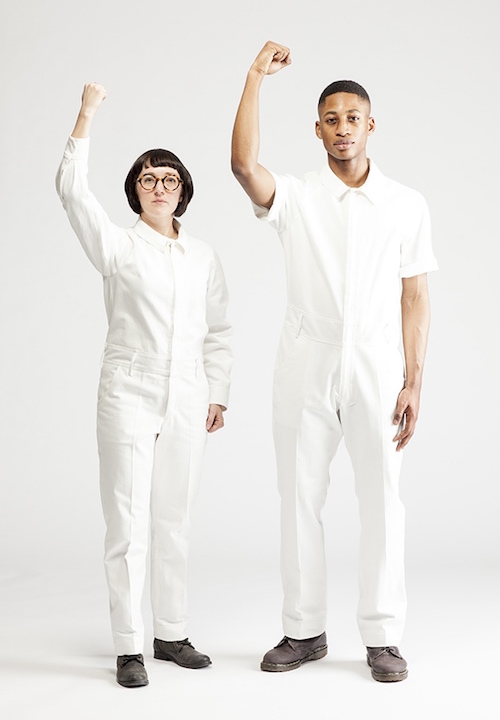 The kickstarter campaign talks about rejecting choice but not much about the gender. How is JUMPSUIT'S single style addressing the marketing of gender through fashion?
JUMPSUIT rejects the signs of class, race and gender that are inscribed onto our daily interactions. We believe that clothes can be a mark of solidarity. One of the ways that we produce a sense of unity and commonality among JUMPSUIT-wearers is through our ungendered sizing system. Ungendered does not mean unisex, a term that was coined during the sexual revolution of the 1960s. Unisex refers to one garment that promises to fit all – in practice, this typically means that a man's garment is sized up or down, with no attention to variation in body type. JUMPSUIT acknowledges that all bodies are different, and that this difference does not always adhere to the gender binary. Thus, the goal is to produce a highly customizable garment, adjusted to accommodate a large variety of body types – the end result being a garment that fits the individual while maintaining the visual oneness of the collective. In the future, we will be brothers and sisters6 together in JUMPSUIT!
1. Schmatta: Rags to Riches to Rags, directed by Mark Levin (2009; New York, NY: Blowback Productions, 2011), DVD.
2. Annamma Joy, John F. Sherry Jr., Alladi Venkatesh, Jeff Wang and Ricky Chan, "Fast Fashion, Sustainability, and the Ethical Appeal of Luxury Brands," Fashion Theory, Vol. 16, Issue 3: 275.
3. Dana Leibelson, "H&M Plans to Pay Garment Workers Fair Wages. Here's Why That's Probably BS," Mother Jones, Jan 6, 2014, http://www.motherjones.com/mojo/2014/01/hm-fair-labor-wages.
4. Human Rights Watch, "Work Faster or Get Out: Labor Rights Abuses in Cambodia's Garment Industry," 2015: 108.
5. Annamma Joy, John F. Sherry Jr., Alladi Venkatesh, Jeff Wang and Ricky Chan, "Fast Fashion, Sustainability, and the Ethical Appeal of Luxury Brands," Fashion Theory, Vol. 16, Issue 3: 283.
6. As well as fathers, mothers, humans, non humans, and other comrades.