Like conventioneers to the swag table, over 7,000 creative professionals from the four corners of the globe descended on the Los Angeles Convention Center last week for Adobe MAX 2015, Abobe's annual celebration of creativity and their amazing tools that help designers turn imagination into reality.
This year's theme "Changing the World Through Digital Experiences" resonates well with Art Center' ethos of changing the world through design—design made possible in large part by Adobe's ever-widening, ever-more-powerful line up of creative software.  Indeed, many of the greatest changes that design will enable in the coming years will likely involve Adobe's Creative Cloud at some point in the creative process.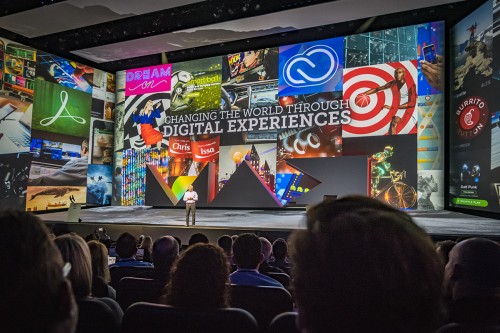 By providing a centralized marketplace and repository for all design assets, facilitating collaboration across all platforms and making use of connected workflows, Creative Cloud has positioned itself as the one-stop shop for all things design. And Adobe's efforts have paid off: Creative Cloud's 5 million members now comprise the world's largest on-line design community.
Brian Lamkin, SVP of Creative Cloud, explained that Adobe sees the need for content literally exploding right now, placing ever more pressure on designers to create and deliver more content at an accelerated velocity.  He identified three factors driving Adobe's current focus on optimizing content creation tools:
Design has become paramount
It's a multi-screen, multi-media world
Users desire a personalized experience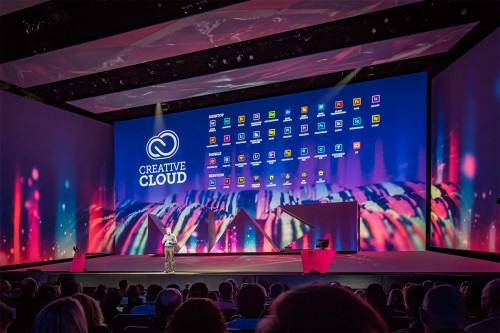 Design Goes Mobile
Scott Belsky, co-founder of Behance and current VP of Mobile and Community Products, revealed two awesome new mobile apps that will further change the way designers work: Photoshop Fix, which delivers touch-based image retouching and restoration for the iPad or iPhone; and Adobe Capture CC, a user-friendly interface which enables iPhone photographers to customize images using brushes, shapes and color themes.
However, the big reveal at Adobe MAX came in the form of its host of new innovations to all of the applications in Adobe's formidable creative arsenal.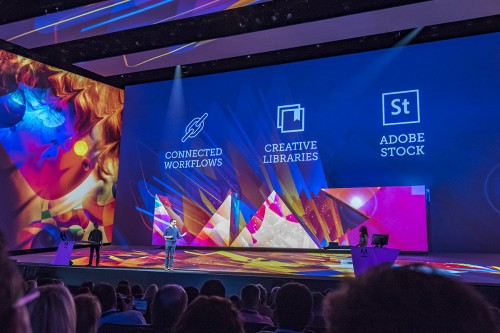 CreativeSync
Adobe has revolutionized design collaboration with it's new CreativeSync technology.  Now all of the Assets for a project are stored in one central Creative Cloud library, available to all team members across all devices, instantly.  Here's how it works: Once a typeface, color palette, image, graphic or other source file is added to a project, it becomes an asset that's accessible to team-wide edits while maintaining its source-file integrity.
Using Linked Assets, designers can access over 40 million images at Adobe Stock, download previews for editing and placement within projects, and when approved, the images can be purchased directly within the library, thereby streamlining the production cycle.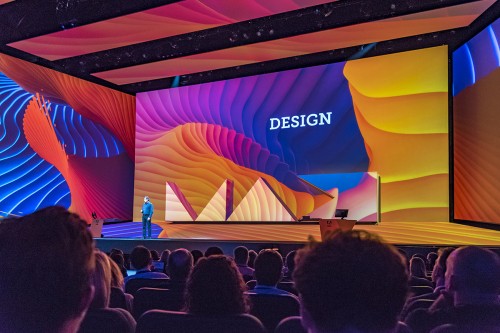 Graphic Design
Adobe recognizes that graphic design is stronger and more important than ever.  With that in mind, Micheal Ninness demonstrated some of the hot new features in Illustrator.  Screen redraws are now nearly instantaneous and designers can zoom to an astounding 64,000%! On the newest tablets, Illustrator features a new touch and stylus-based user interface. The new finder tool enables users to easily draw, edit and combine shapes. And documents may now be published on-line, viewable in any browser, complete with interactiv and embeddable functionality applicable to any web-based platform. George Jetson would be impressed!
Adobe also announced the acquisition of Mixamo, a San Francisco based company that enables designers to create and customize a broad range of high quality 3D characters and animations, available for posing and animation from within Photoshop.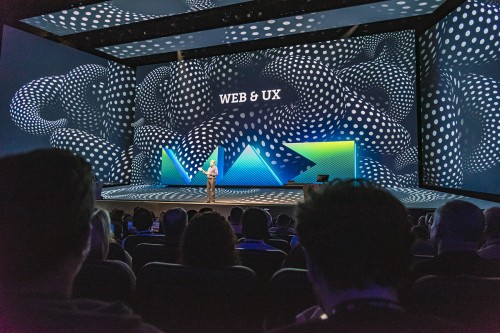 Web and UX
Adobe has made huge strides in the areas of web and user interface design.  Paul Gubbay, VP of Design & Web, reinforced Adobe's commitment to simplifying these complex areas. The big news was that Muse – Adobe's application for creating and publishing dynamic multi-screen compliant websites – now exports a fully responsive websites from a free-form design tool.
Photoshop has, um, responded to the need for responsive design tools. New features within Photoshop include Artboards and Pages (which allow multiple screens within a document), native SVG support and the ability to export only certain layers and at different scales.  Very handy stuff for web designers.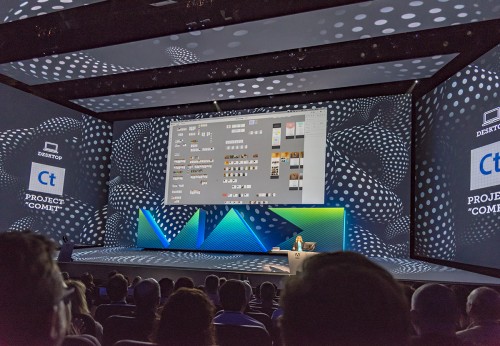 Experience Design
Adobe's new Project Comet will allow for the creation of high-fidelity interactive prototypes within a vector design environment. Comet comes fully-loaded with features, including repeating grids, drag-and-drop image cropping within shapes, parallel design for multiple screen sizes, hundreds of artboards containing thousands of assets, linking of artboards via animation and instant interactive prototypes. UX designers will be eagerly awaiting its release early next year.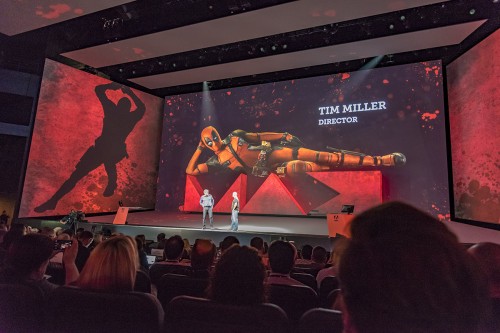 Video
Tim Miller, co-founder of Blur Studio and Director of Deadpool, offered an insider's perspective on Hollywood's migration from Final Cut Pro to Premiere Pro, as the video editing tool of choice. He described using Premiere to cut Deadpool, praising the flexibility and freedom it afforded him in piecing together disparate elements of his narrative.
Adobe evangelist Jason Levine energized the audience with demonstrations of Premiere's newest features, ranging from instant color correction directly within Premiere to image altering capabilities as well as new audio and video workflows, including the ability to dynamically tailor audio to a specific video sequence.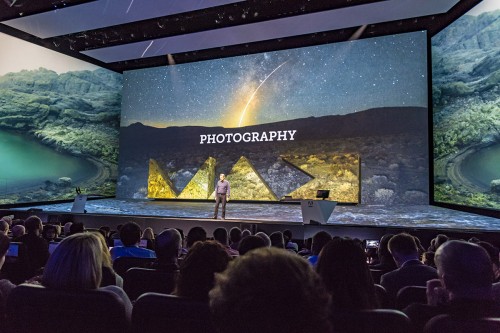 Photography
As Photoshop turns 25 this year, Adobe has continued the innovation that has made it the industry standard for that entire period. Photoshop and Lightroom have now taken flight in the mobile world by providing a greater degree of integration on phones and tablets. CreativeSync has streamlined the process of exporting from mobile to desktop.  And with new apps like Photoshop Mix and Photoshop Fix, designers are equipped to mix pictures and textures as well as retouch and augment photos in a touch-based interface.  Skin smoothing, teeth whitening and facial editing can now be achieved on mobile devices.
Adobe also announced its new partnership with Fujifilm.  As the Camera Sponsor for this years event, Fujifilm has generously provided the over 7,000 attendees with a brand new Fujifilm X-T10 camera and lens kit. Perhaps it was Photoshop's 25th birthday that inspired such gifting extravagance. Whatever the case may be, this year's swag bag had the whole conference buzzing and will definitely lead to much wider exposure for Fujifilm's Cameras.
And then of course was the MAX Bash!
Next Year it's going to take place in San Diego. You should check it out.