A few days after celebrating the completion of earning her graduate degree in Media Design Practices, Kristina L. Ortega (MFA 15), swiftly packed up her life in Southern California and moved to Portland to begin a new career chapter with Intel's New Devices group as a wearables user experience designer.
"Our goal is to launch designers who will question the world or view the world differently, imagine needs and products which may not exist for another 10 or 20 years into the future," said Anne Burdick, chair of Art Center's Graduate Media Design Practices (MDP) Department.
Ortega and fellow grad student Jennifer Rodenhouse made headlines with a novel nail salon concept that turns fingernails into a dynamic digital platform. The duo first hatched the idea for a "Sensor Salon" in a Wearable Ecologies class sponsored by Intel and led by MDP faculty members Philip van Allen and Ben Hooker. It took off in a big way, attracting interest in the field as well as a flurry of media attention, from public radio to Fast Company and Geekwire among other outlets.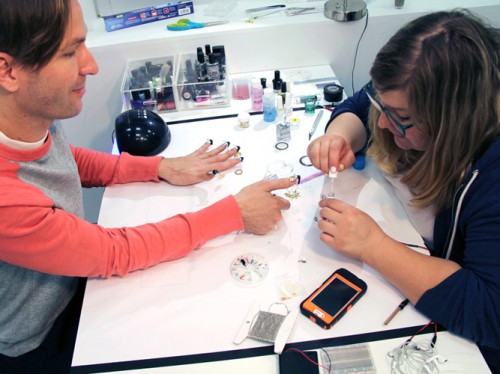 A dive into the world of wearables is perhaps not surprising since Ortega studied fashion and textiles at California State University, Los Angeles. After she interned with the legendary Los Angeles fashion house Rodarte, she cofounded the experimental resin jewelry line Mctega.
The jewelry, featuring ultra-luminescent resin cubes and rock crystal clusters wrapped, threaded and suspended by multiple chains, was sold at Barney's NY COOP, Joyce Hong Kong, Holt Renfrew, and was featured in magazines like NYLON, Women's Wear Daily, and Bust.
Ortega's work at Mctega explored concept through material, specifically science and technology's cultural implications. That recurring theme lead her to pursue MDP's Lab Track at ArtCenter. While a thesis candidate, she explored methods from social practice as a mode of research and culture production, fueled by her fascination with exploring the space where technology and culture influence each other.
In the lab, she investigated how the human microbiome—the system of microorganisms that live on and around your body—could impact the future of medicine and technology. "There are possible health benefits in cultivating a diverse microbiome," writes Ortega on her website. "Outside elements like pets can introduce diverse microbes into a household."
One part of her thesis project titled "and contagious: Standard Cheers for Punta Way, MPK!" explored how participatory methods, when applied to critical and speculative design, could expand conversations through research and provocation. "What if this cul-de-sac could act as a stage for behaviors that could cultivate a sense of community around a neighborhood microbiome," asks Ortega on the site.
To explore this question, she deployed a series of interventions on Punta Way—the cul-de-sac in Monterey Park, 10 minutes east of downtown Los Angeles, where she grew up—designed to promote diversity of the human microbiome by proposing a community microbiome. One such intervention reimagined a cheer squad as a method of cultivating a healthy microbiome—their spirited cheers both representing probiotic dissemination and, in a memorable and humorous manner, visibly affirming an invisible ecosystem of microorganisms that effects our lives.