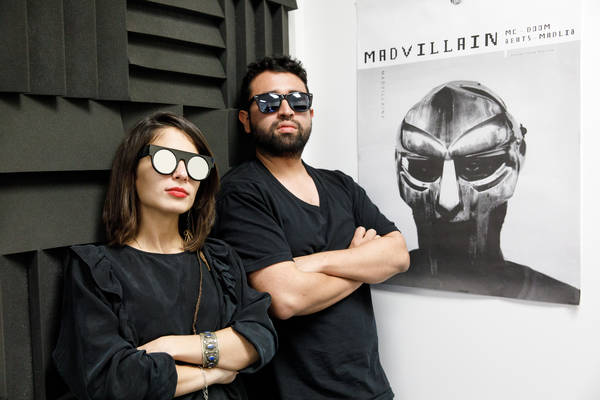 This story first appeared in Dot magazine.
On a recent Friday night in July, Fine Art student Mehregan Meysami stands behind two tables heaped with music equipment—a turntable, mixer, black audio cables, effects pedals and more—on the spacious second floor of the 870 Building.
A distorted child's voice—her own as a 5-year-old recorded in her native Iran—swells through speakers and crashes against a cacophony of ambient noise that reverberates in your chest. Meysami, set to graduate this term, takes a contact microphone she made herself and drags it along the turntable's edges, unleashing guttural splinters of sound. Students and faculty sit transfixed in front of her.
Meysami's piece is part of Summer 2017 live student performance night Communistation, hosted by Fine Art's new Sound Lab, a hub of sonic creation founded by Fine Art faculty, sculptor and sound artist David Schafer.
"Sound is a material, similar to paint, wood, metal, steel or clay," says Schafer, sitting in the Lab's first-floor room in the 870 Building at ArtCenter's South Campus, surrounded by posters, vinyl records and long colorful audio cables. "Sound is formless and can affect us emotionally, physically, physiologically, mentally. Like with a material, you can cut up sound. You can reshape it. You can layer it. You can compress it."
Students can engage with the Sound Lab—just one of several labs in the College's Art Labs facilities—in various ways, Schafer says. All majors can take a tutorial on the lab with Schafer or a Sound Lab teacher's assistant such as current T.A. Meysami. In the lab they can experiment with a load of equipment, including turntables, mixers, effects pedals donated by EarthQuaker Devices and modular synthesizer keyboards donated by companies Arturia and Roland. They use software such as GarageBand and Logic to process and edit sound files to create recordings as deep and thick as sculptures.
"I experience immediate joy when I bring students into the Sound Lab, demonstrate the turntables and give them permission to play and experiment with the record as a physical object," says Schafer. "They can scratch it and reverse it. They can change the speed."
They can also participate in workshops—a Spring 2017 workshop focused on making contact microphones, which pick up sounds from surfaces—and the recent Summer 2017 Soldering Workshop: Soldering Audio Cablesworkshop taught by Los Angeles-based Stones Throw Records house engineer Jake Viator. In that workshop, Fine Art students including Meysami and former Sound Lab T.A. Victor Artiga Rodriguez made their own slinky audio cables with soldering irons and wire cutters, and then used those cables to plug into mixers in the Sound Lab. "It's important for students to learn to be self-reliant," Schafer says.
Schafer's own love of sound extends to his childhood. He grew up in the Midwest listening to his shortwave radio at night, and would twist the dial to hear different languages, static and fuzz. He also played the trumpet and French horn and went to punk shows. A degree in sculpture and an interest in urban environments and architectural scale led him to create large-scale works and sculptures. He used experimental sound and spoken word in his colossal metal, wood and plastic sculptures starting in the '90s. He fully embraces noise.
"Noise is generally heard and viewed as an unwanted sound that might create discomfort, from the sound of airplanes to a neighbor's washing machine," says Schafer. "But it doesn't have to be loud or harsh. It can be really subtle or just a weird frequency. Noise can be expressive as something improvised, textural, immersive and outside of control. You are born into sound, starting with the sound of your mom's body when you were carried in a womb."
"The Sound Lab is very open to all kinds of experimenting with the making, recording and processing and manipulation of all kinds of sound," adds Schafer, who this coming Fall term will teach Advanced Sculpture, Studio Practice and Professional Practices for Artists.
Schafer teaches a number of sound-based courses such as Broken Music, a Humanities and Sciences seminar on the history of sound in the arts, and the upcoming Spring 2018 Fine Art studio course Sound, focusing on sound and its relationship to Fine Art practices.
In these courses, Schafer introduces students to composer John Cage's work on silence, post-World War II composer Pauline Oliveros's theory of meditative "deep listening," and an early form of '40s electronic avant-garde music incorporating environmental sounds called musique concrete—music concrete—invented by French composer Pierre Schaeffer. Plus, he delves into the work of early 20th-century Italian Futurist painter and composer Luigi Russolo, who built noise-generating music devices called Intonarumori, and more modern-day Japanese noise artists such as Masami Akita and British band Throbbing Gristle.
Meysami, who studied architecture before coming to ArtCenter, became interested in diving into the world of noise and sound after taking the required Fine Art course Art: Structures and Systems with Schafer in 2015.
"When I took David's class, I first thought, 'What the hell is that? Sound art? I'm not interested,'" says Meysami, smiling. "But then he opened a new chapter for me. You don't need to necessarily know music to be able to use sound. My visual work is very architectural and deals a lot with space. I use sound as sculpture to activate a space and evoke a sense of memory and feeling."
Meysami's senior project I Am in the Shelter of Window is directly inspired by musique concrete, and incorporates influential Iranian writer Forough Farrokhzad's poems. For one part of the project, Meysami taped a contact microphone and surface transducers—which convert the surfaces they touch into speakers—onto a block of concrete.
"It's music concrete, so it's kind of like a joke," she says. "The sound from the concrete is spacey, dreamy and intense, and similar to the air conditioning sound we hear in industrial buildings here."
For an early Sound Lab piece, Meysami took a political speech and distorted it until it because unintelligible noise. Her booming, thunderous Communistation live performance piece—featuring a childhood recording of her speaking and singing songs in Farsi and ABCs in English to her parents—conjures up powerful emotions.
"I just want to cry when I listen to it, because I remember that moment, and how I thought so positively about the world," she says. "Distorting that voice to something dark shows adulthood being very different than childhood. Noise can be open, abstract and very deep, and a lot depends on how you perceive it."
During his own sound performance at Communistation, Rodriguez—who went to see noise bands in his native El Salvador before coming to ArtCenter—bounces in place behind the turntable and mixer table while a video of a car being assembled is projected onto a wall behind him. Keyboard dissonance combines with a crescendo of fuzz, which Rodriguez made by layering and distorting a numerical data set he learned about from Humanities and Sciences course Visual Math.
Part way through the performance, Rodriguez pulls into the middle of the floor blocks of concrete, a slab of wood, a roll of metal mesh and wrapping paper, and begins to crack the concrete. A melody begins, and he takes a contact microphone and rakes it over the mesh—releasing a metallic sound like skittering robots—and then along the ridges of the concrete while a relentless beat unfolds.
The piece ends with Mexican dance music Rodriguez grew up listening to in El Salvador, and the sculptor and sound artist grabbing friends in the audience and joyfully twirling them around.
"I feel like visual art and sound complement each other," says Rodriguez. "My sculptures are wood, steel, very architectural, and I've been combining them with video components. I want my visual art and performances to have an edge of playfulness. I really like that push-pull between that and extreme harshness."
As for Schafer, his face virtually lights up watching his Sound Lab students go down the rabbit hole of noise, sound and aural freedom live.
"I sometimes refer to our performance night as the night of psychic liberation, because it's a little bit unpredictable and it brings everybody together." he says. "It's a party, a club, an experience."