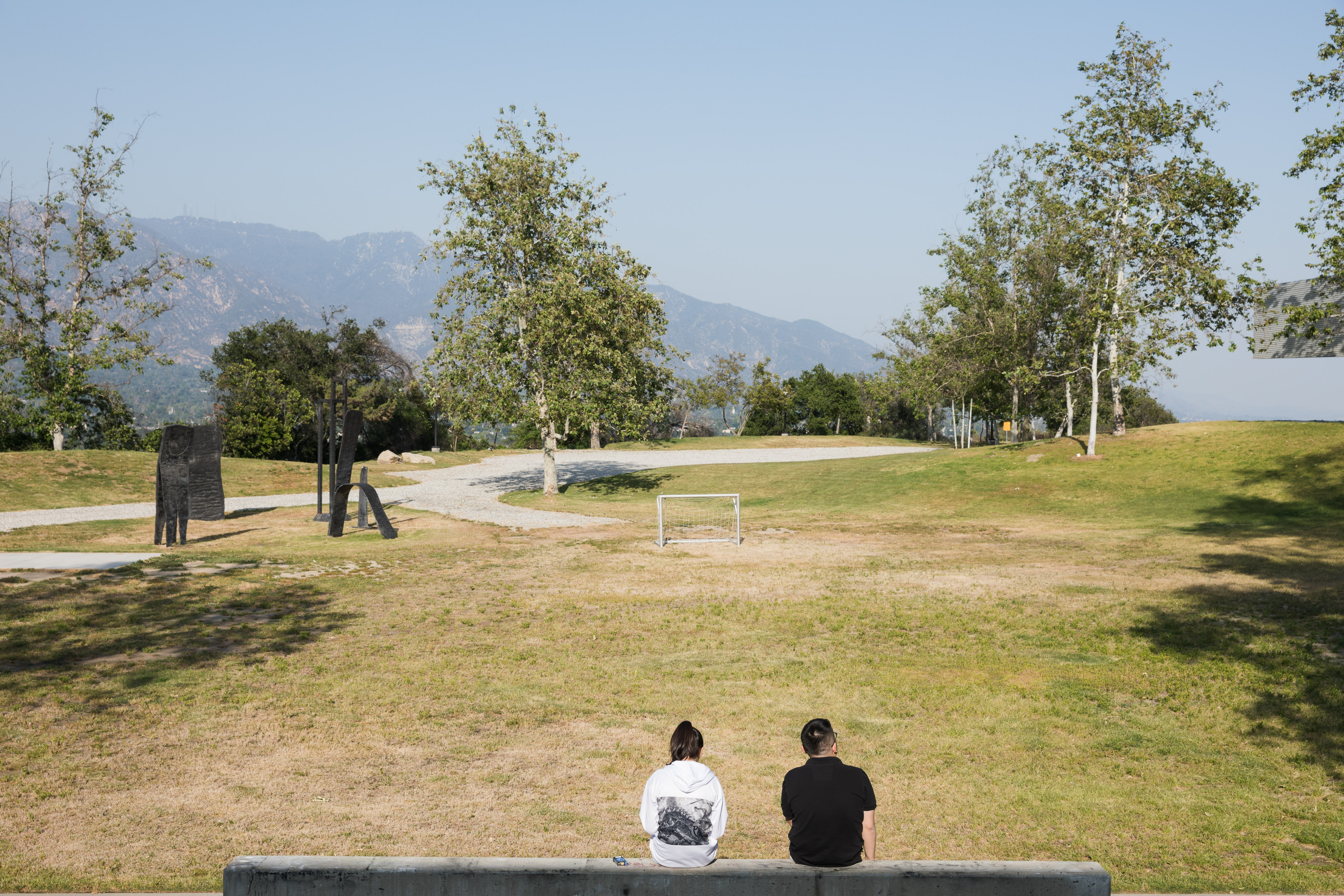 "The beautiful thing about learning is nobody can take it away from you." B. B. King
The creative energy on both campuses is kicking into high gear as ArtCenter prepares for its series of Summer graduation events. Here's what's in store as the College prepares to launch the next wave of creative talent in to the professional world.
Thursday, August 17: Dual-Campus Graduation Show Preview
Thursday activities start in the morning, when students get to meet select potential employers during Recruitment Open House. In the evening, industry leaders, employers, corporate partners, donors and alumni get the first look at the Summer term's graduating artists and designers at the invitation-only Graduation Show Preview, held from 6:00–9:00 p.m.
Undergraduate candidates from Advertising, Environmental Design, Film, Graphic Design, Illustration, Interaction Design, Photography and Imaging, Product Design and Transportation Design will be showing at Hillside Campus. Graduate Film, Graduate Industrial Design and Graduate Transportation Systems and Design master's candidates will also have work on display at the Hillside Campus.
Fine Art graduates will have an exhibition at the 870 Building at South Campus from 7:00–10:00 p.m.
Saturday, August 19: Graduation Ceremony
ArtCenter's Summer graduation ceremony begins at 10:00 a.m. at the Pasadena Civic Auditorium.
Following welcoming remarks by President Lorne Buchman, the baccalaureate and master's candidates—along with faculty, staff, family and friends—will hear from this term's Student Leadership Award recipient. The Student Leadership Award is given out each term to a student who exemplifies standout leadership qualities and accomplishments. This term, a committee of students, faculty, and staff affirmed the values of this award by selecting Product Design major Lori Nishikawa. Product Design Chair Karen Hofmann said, in nominating Nishikawa, "[a] Hawaiin native with a deep commitment to sustainability, social equity and collaboration who is laser-focused on leveraging her creative talents to bridge multiple disciplines in taking on the world's wicked problems. Without a doubt, I see Lori Nishikawa moving on from ArtCenter to take what she has learned here and truly make the world a better place."
Those assembled at the Civic Center will also hear from valedictorian Victor Artiga Rodriguez, who is graduating with a degree in Fine Art. In addition to lauding his leadership qualities, Fine Art Chair Tom Knechtel noted, "since he first came to us, Victor has demonstrated a notable intellectual curiosity and willingness to take aesthetic risks. He has not defined his practice by any one media, pursuing painting, sculpture, printmaking, film and performance not as shallow explorations but as serious questions about the roles of viewers and producers. His art is informed by humor but his questions are completely serious."
Following the student awardees, as is Summer Graduation custom, the College will bestow Great Teacher Awards to one full-time and one part-time faculty member.
ArtCenter first began formally honoring great teachers in 1986. Once a year, recipients are selected by a committee of students following an open nomination process by all students. During the award's history, instructors from across all departments have been recognized for their significant and life-changing contributions toward student learning.
Accomplished professionals in their own right, ArtCenter instructors choose to develop the next generation of artists and designers who will go on to influence change and shape culture. By recognizing excellence in its full-time and part-time teachers, the College appropriately honors the profession for the transformative role it plays in advancing art and design theory, practice and discourse.
The Great Teacher Award embodies ArtCenter's remarkable spirit of excellence, the extraordinary contributions and skill of our revered instructors and, perhaps most importantly, our commitment to prepare students for a life marked by professional and personal impact.
This year, Integrated Studies faculty member Jon Nguyen will receive the full-time faculty award and Kevin Beard, who teaches classes in Product Design and Humanities and Sciences, will receive the part-time faculty award. Nguyen will give the commencement address.
Saturday, April 22: Graduation Show
After the ceremony, Graduation Show opens to the public at both Hillside and South Campuses from 1–6 p.m., where work by the newest ArtCenter graduates will be on display. The College's dual-campus Graduation Show offers friends, families and the general public an opportunity to see the stellar work of this term's graduating students.