Undergraduate Film Department instructor Allen Daviau will host famed director, producer and editor Joe Dante to campus Thursday for a lecture and Q&A.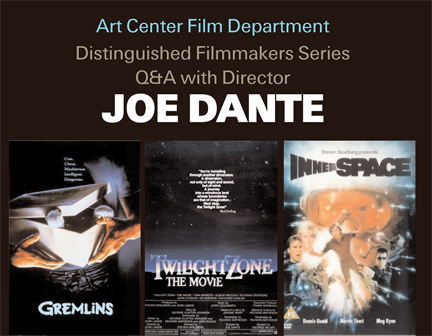 Like many directors of his generation, Dante began his career with Roger Corman's New World Pictures in the '70s, starting as a trailer editor and soon directing hit films for New World and then the majors.
Known for his vivid, highly inventive visual style, Dante directed such films as Piranha, The Howling, Twilight Zone: The Movie (segment three), Gremlins, Explorers, Innerspace, The 'Burbs; Gremlins 2:
The New Batch, Small Soldiers, Looney Tunes: Back in Action and the upcoming Monster Love.
This event is open to all Art Center students, alumni, faculty and staff.
Distinguished Filmmakers Series: Joe Dante
Thursday, April 14, 1 p.m.
Ahmanson Auditorium