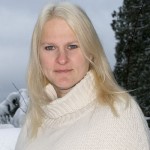 Marian Bantjes, fresh from her appearance at TED, stopped by the Ahmanson Auditorium last Thursday to share some riveting stories behind her internationally-recognized work. The Canadian artist, typographer, designer and writer touched on her project selection process, the philosophy behind her unique aesthetic and the difficulty of finding something worth saying.
Did you hear Bantjes speak? What did you think?
Here are a few highlights:
On her early career as a typesetter:
As a typesetter, I didn't do any creative work at all. The designer told me what to do and my job was to know typography well enough to get it right. I did this for ten years. Most people who want to be designers think of this as tedious. But I learned a lot about typography and I loved that job. It's something undervalued in most design today. People want to do the fun stuff, the crazy stuff, the stuff that I do now, but it's really important to be able to get pleasure in the fine details.