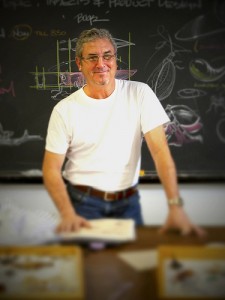 Join us for a memorial service for alumnus and faculty member Norm Schureman on Sunday, March 28, at 10 am at Hillside Campus. The service is open to friends, family, members of the Art Center community and the general public.
In lieu of flowers, please consider a donation to The Norman Schureman Memorial Scholarship. 

Please be aware that on-campus parking will be limited. We encourage you to carpool to ensure that parking is available for all.
For those unable to attend, the College will webcast the service on our website.
For more information, contact the Office of Public Relations at 626.396.2338.
Norman Schureman Memorial
Sunday, March 29, 10 am PST
Hillside Campus Sculpture Garden
1700 Lida Street
Pasadena, CA 91103