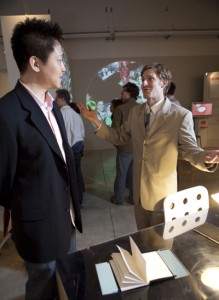 Dubbed "the event with the intimidating title" by its organizers, the first annual 4 Hours Solid took place on April 21 at Art Center's South Campus and marked the first time the College  specifically showcased work and ideas from its four graduate programs—Graduate Art, Broadcast Cinema, Industrial Design (GradID) and Media Design (MDP).
Over 300 people attended the evening event, which included a panel discussion, exhibitions of recent student theses and work, student film screenings and a reception.
For the students showing their work, the evening provided a welcome opportunity to get feedback on their projects.
MDP student Haemi Yoon, who presented her thesis project that explores the down-time of everyday electronic objects, said she was surprised by the questions visitors asked her. "I thought people wouldn't understand the project, but they totally got it," said Yoon. "People asked me, 'What do you think a future object will look like?' and 'Do you think these objects should have personalities?' It was a great dialogue."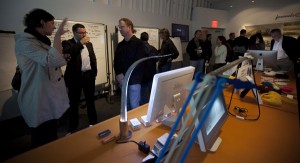 GradID student Timothy Brewer, who presented Illuminato, a desktop lamp constructed of LED lights and 700 rare earth magnets that seems infinitely flexible, had a similar experience. "It's been humbling to see so many people expressing interest in the lamp," said Brewer. "People are moving it, playing with it. I've also gotten some good leads. One of the first people I talked to was a creative director at Frog Design from Seattle."
Bob Peterson, Chair of Broadcast Cinema, was particularly excited by the opportunity that 4 Hours Solid created to showcase his students' work. His department compiled more than 20 short clips from students' films, and screened them during the event. Audience members completed a form that not only gauged their interest in the individual films, but also provided a means for them to get in touch with the filmmakers directly.
"I think we may have found a way to draw people in to the networking process even faster," said Peterson. "People can come to one short screening, check off the films they're most interested in, and then get them delivered personally."
4 Hours Solid also hosted "Screen Culture," a panel discussion that explored the ubiquity of screens in our culture. The panelists included Kevin Mack, an Academy Award-winning visual effects supervisor who studied fine art at Art Center and received an honorary Doctorate of Science Degree from the College; Scott Watson, chief technology officer for Walt Disney Imagineering R&D; McKenzie Wark, chair of culture and media at Eugene Lang College; and Anne Bray, founding director of Freewaves.
The lively discussion touched on everything from a pre-YouTube concept that placed broadcasting decisions in the hands of an online community; artists who are using technology to turn viewers into integral parts of their work; the dissolution of private and public space, and where boundaries should exist; philosophical musings on the virtual world; and whether extraterrestrials embed secret messages in artists' brushstrokes. (And no, that last part wasn't just a test to see whether you're still reading this.)
"The attendance was even better than expected," said Anne Burdick, Chair of Graduate Media Design of the entire evening. "The seating for the panel discussion was standing room only, and the students were thrilled to have a steady flow of visitors who were ready to engage with their work. And for the first time, all four of our graduate programs came together and announced to the world that there's something pretty amazing happening at Art Center."
Did you check out 4 Hours Solid? What are your thoughts? What did you take away?

Tags: 4 Hours Solid, Anne Bray, Anne Burdick, Bob Peterson, Haemi Yoon, Kevin Mack, McKenzie Wark, Scott Watson, Timothy Brewer