On Saturday, June 12, Art Center students, staff and faculty participated in the College's first Art Center Takes Action: A Day of Service in Pasadena, a volunteer initiative launched in celebration of Art Center's 80th anniversary.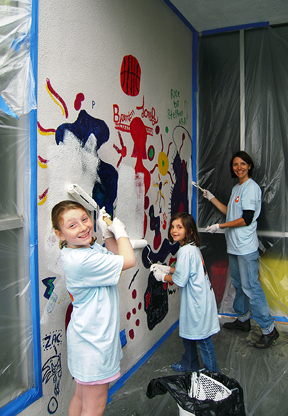 The day of service kicked off Saturday morning with a breakfast with College President Lorne Buchman and representatives from participating organizations. Sponsors Peet's Coffee & Tea, Fresh & Easy Neighborhood Market and Autunno Catering provided breakfast for volunteers.
"Art Center Takes Action is the first in what I hope will become a long-standing College tradition of providing service to those in need," Buchman said at the breakfast.
"When the Art Center community comes together to participate in volunteer initiatives such as this, we help elevate Art Center's reputation not only as a good neighbor, but as a meaningful place to pursue an art and design education."
Volunteers visited with the residents at the Villa Gardens Retirement Community, helped beautify and paint the The Boys & Girls Club of Pasadena, collected trash at the Rose Bowl, and acquired goods and donations for the AIDS Service Center.
"Pasadena is a city with a lot of need," said Ben Sanders, a third-term Illustration major who spent the day volunteering at Villa Gardens, a retirement community that 200 residents call home. "It's a great idea for Art Center to make its presence known in the community. Not by showing what we as artists and designers have made, but by simply showing people we're here and we care."
Sanders and other Art Center volunteers spent the day visiting with individuals in the facility's assisted living wing. Activities included walking with residents around a garden, calling out Bingo numbers, belting out karaoke tunes, staying physically active with a Nintendo Wii and, most importantly, providing a pair of ears for listening. Among the residents that volunteers met were Pat, a San Francisco transplant and quite possibly the world's biggest 49ers fan, and Chick, a Los Angeles native who fondly remembered dancing the Jitterbug in a downtown club until five in the morning.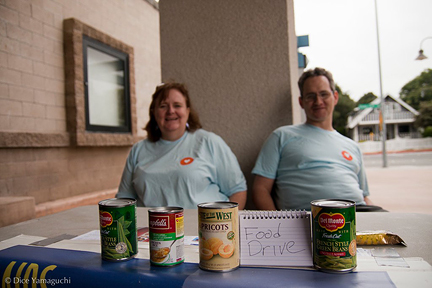 At The Boys & Girls Clubs of Pasadena, volunteers rolled up their sleeves and helped clean and beautify the organization's East Pasadena location by painting walls and gardening. Grad Art faculty member Gabrielle Jennings brought along her 6-year-old daughter, saying that she thinks it's important to instill the idea of giving back at a young age. Ellie Eisner, Art Center's Design Office director, said she enjoyed the opportunity to work alongside students. "I normally don't get a chance to hang out with the students," she said, "so it was a real pleasure to spend time together as we weeded and bagged pine needles."
At the Rose Bowl, volunteers picked up trash from inside the stadium, often amazed and entertained by what they found. A life-sized cutout of a person, a television script, yellow caution tape, mylar confetti and numerous bottles were just some of the many curiosities found by the group, who collected some 50 gallons of trash. Under the guidance of faculty member Heidrun Mumper-Drumm, the group is planning to send the Rose Bowl Operating Company a letter of suggestions that will help eliminate and reduce the impact of waste at future Rose Bowl events.
"It is a great feeling to know that, in some way, we helped our community today," said Advertising student Ray Allan David, who designed the posters and T-shirts for the event. "I hope that the Day of Service becomes a tradition at Art Center. It's something I definitely plan to do again."
The initiative has sparked an interest among the student body to become more involved in the Pasadena community.
"In reaching out to local organizations—even more than those that participated in the Day of Service—we've already begun to build a volunteer network for future collaborations," said Dean of Students Jeffrey Hoffman.