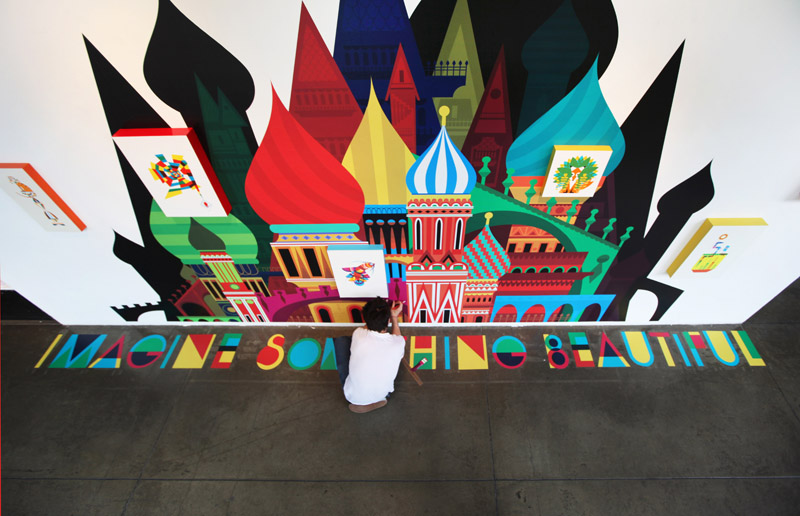 Guest post by Heather Koopman of Blik
Last spring, Blik participated in the Art Center's Advanced Illustration Studio class. Fourteen students at the Pasadena campus enrolled in the course, which is part of the Illustration Department curriculum that focuses on design beyond the printed page. Led by the chair of the illustration department, Ann Field, the upper-term class taught applications for illustration including wall graphics, fabric, ceramic plates and interior design.
According to Field, part of the magic was how quickly the project with Blik was pulled together. Each student created one design and submitted it to Blik to be turned into a printed wall graphic. During the process, Blik tutored the students in how to create and set up their illustrations as files for print production. The final designs were presented and installed in the classroom.
"One of the great things about this class is the opportunity to work with companies, like Blik, who have a high-design aesthetic and impeccable attention to detail," says Field. "These qualities combined with Blik's contemporary products and history of working with established artists makes for a good working partnership."
Blik also worked with one of Art Center's star graduating students and Spring 2010 valedictorian, Patrick Hruby, to manufacture his final project, Imagine Something Beautiful. Each year, the Art Center faculty gives a wall in the main school entrance way to one student to display their final project. Patrick's project was selected for the space and he approached Blik to help execute his vision.
Blik is proud of the students' work and looks forward to continuing our relationship with Art Center again in the future.
For more on Blik: Blik's Blog, Blik Custom: Art Center, Blik Custom: Patrick Hruby