We are pleased to announce that the fourth Art Center Summit will be held in September. Projects and Partnerships in Sustainable Design will highlight our association with the Opportunity Green Business Conference, taking place September 22 through 24 at L.A. Center Studios.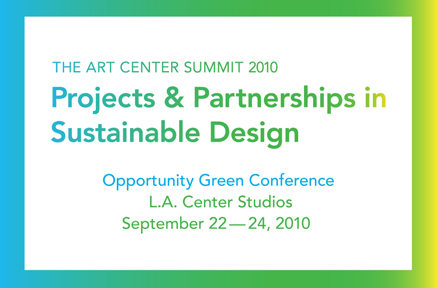 The conference, developed alongside Art Center's Sustainability Summits, seeks to innovate, collaborate and inspire industry leaders and the next generation of thought leadership, helping to develop and implement sustainable business solutions.
In 2007, Art Center successfully launched and hosted a series of annual Summits, bringing international leaders and experts in topics related to sustainability and mobility to the College. Envisioned as a five-year program, the first three Summits took a critical look at environmental, social and economic issues surrounding sustainability supporting the College's desire to integrate sustainability into its curriculum. In this fourth year, we are taking components of the Summit to Opportunity Green to share with a broader audience how we are integrating the lessons learned so far.
Learn more at the Summit website.