It's not too late to attend the fourth Art Center Summit, Projects and Partnerships in Sustainable Design. This year's event will highlight our association with the Opportunity Green Business Conference at L.A. Center Studios, today through Friday.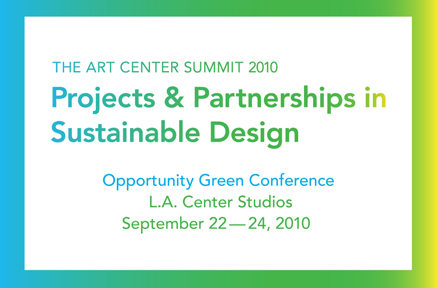 Tomorrow will feature breakout sessions Beyond the Peanut: Using Life Cycle Assessment to Develop Goals and Strategies and Creative Strategies: Sustainability by Design and the main stage presentation, Product Design in the Sustainable Era, will be held tomorrow afternoon. There will also be an exhibit of student work, featuring art and design addressing environmental, social and economic sustainability, on view throughout the conference.
Learn more at the Summit website. See you there!