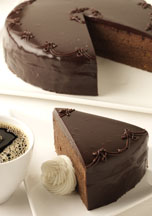 In addition to teaching at Art Center, product and environmental designer Krystina Castella has another rather interesting pursuit: writing cookbooks. Her latest, A World of Cake, has just been released to rave reviews.
Join Castella at a book signing this afternoon to celebrate this tasty new book inspired by the Art Center community. She'll talk about her book as well as how you can get your own book published, too. Best of all, cake will be served!
Krystina Castella
Thursday, November 4, 1:30 p.m.
Art Center Hillside Campus
Library
Be sure to check out Castella's great website for the book and the video trailer from the new book below. Are we the only ones getting hungry?

Tags: Krystina Castella