Metro's Exposition Line connecting downtown to Culver City (and eventually Santa Monica) may not be up and running yet, but when it is, it'll be impossible to miss the work of Illustration alum and Art Center at Night instructor Ronald J. Llanos.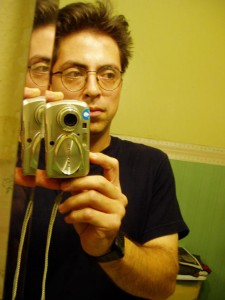 Metro has commissioned the Art Center alum and Art Center at Night instructor to create Ephemeral Views: A Visual Essay for its light rail station being constructed at Western Avenue, and the 24 mosaic panels (each one standing 8' x 3') that comprise the work are being created right now.
Much of Llanos work captures the everyday moments of life in the greater Los Angeles area—whether it's a visual documentation of downtown's Toy District or an homage to Manet at Hot Dog on a Stick—so it's not surprising that his Expo Line work inspired by the vibrant characters that make up the city's street life.
Llanos work has been shown at Wax Poetic, Black Maria Gallery and Ghettogloss and he was the featured artist in Draw the Line, a recent group show at Cactus Gallery in Eagle Rock. We caught up with him to ask him about his favorite artists and teaching at Art Center at Night.
One of my favorite artists is Honoré Daumier. He drew scenes of 19th-century Paris, capturing moments he found interesting. He was known mostly for his caricatures. He did a lot of political satire and was actually put in jail because of it. Another inspiration is John French Sloan, from the early 20th century, who was inspired by city life in Philadelphia and New York. He just looked outside his window and captured whatever grabbed him. One of my favorite paintings of his is Pigeons, which depicts a young man and an older gentleman on the roof of an apartment complex while pigeons gather near them. Who would think of painting that? And who's interested in even seeing that? I'm not sure, but I find it fascinating.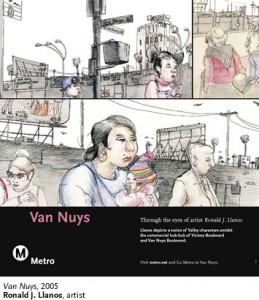 What do you enjoy most about teaching ACN classes?
Students who are open to new possibilities. I'm hoping to find that sense of openness in them. And if I'm not finding it, I hope to instill it in them. Sometimes I think of class as being in a submarine. When the submarine surfaces, somebody has to climb up, open the hatch and take a look around. I've already opened the hatch, and I want to share that information with my students.
You yourself went to ACN?
Yes, and I thank ACN for helping me develop my portfolio to get into Art Center's Illustration program. It was a really good bridge. I remember juggling a full-time job and my ACN classes. I was always hurrying home to change clothes, having no time to shower, and then hurrying back to class. That rush was part of the drive for me. So I can definitely empathize with my students who have day jobs, or families or go to two or three schools. But I'm not going to lower my standards. Nobody wants to be pampered or coddled. So I try to keep things fun while still keeping the students on their toes.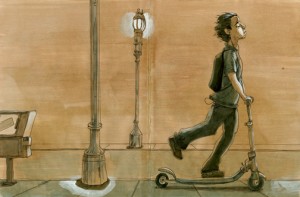 What's your advice for somebody interested in entering the fine arts through ACN?
Whether it's a little voice in the back of your head, or a loud calling in your heart, everybody has the right to follow that voice inside them whenever possible. If somebody takes a class, at least they're giving themselves the possibility of doing something they're interested in. Possibility is one of the things I love about teaching. There's always a possibility that somebody might have something hidden inside that's great. Students have to follow that hunch and see where it takes them.