On Monday, Occidental College professor Dale Wright was on campus as part of the Big Picture lecture series to talk about Buddhism, Buddhist wisdom and creativity.
The most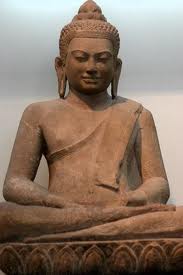 entertaining part of the talk, however, was the story of the Zen Master who came looking for the Wild West—and how he found it.
Wright met the Zen Master at a conference in New Mexico. The Master had traveled from Japan in large part because of his love for all things Western—especially Western movies. The first night of the conference, the Master talked Wright into walking into town in search of a "saloon."
Wright tried to talk him out of it, explaining that things had changed, and that today's cowboys rode pick-up trucks instead of horses. Not to mention, he doubted that there was a saloon in the small town, anyway.
The Master was not deterred, so he and Wright set out for town on foot—the Zen Master in his robe, wooden sandals and shaved head.
Despite Wright's misgivings, the Zen Master did indeed find a saloon on a side street, complete with swinging doors.
They entered the saloon, decorated with guns and deer heads along the walls. Sitting at the bar were four cowboys, complete with cowboy hats and boots. Surrounding a back table were three Native Americans.
Sure enough, the Zen Master had found his cowboys and Indians and, in doing so, was able to find the Wild West in the New World.
Wright also enlightened the crowd about some basic tenets of Buddhist thought:
"Everything is always changing, and nothing exists except in relation to other things. Everything is empty of its own being."
Buddhists believe that "wisdom derives from focused meditation on these characteristics of reality," and that "imaginative people have a higher level of mental freedom."
Creativity, in a Buddhist sense, is "the ability to see how change that is happening now can be realized in the future."
Buddhists also find a purpose to humor:
"Humor purifies seriousness.
On Buddhist wisdom:
"Wisdom resides in the tension between seriousness and humor."
Next Monday, David Wilson, the founding director of the Museum of Jurassic Technology will speak on Nikolai Federov, Konstantin Tsiolkovsky and the Roots of the Russian Space Program.
And don't forget—podcasts of the lectures are up at Art Center's iTunes U site.

Tags: Big Picture Lecture Series, Dale S. Wright