Last year, there was a controversy over a stash of antique negatives bought at a Fresno garage sale thought to be the early work of renowned photographer and Art Center faculty member Ansel Adams.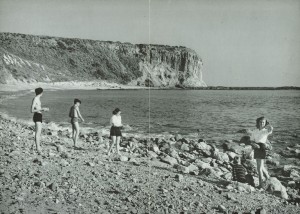 And now, there are new virtually unknown works by Adams, but these have the documentation proving that they are indeed by the famed photographer—information the ones from the summer lack.
Culture Monster reports that the collection of 29 virtually unknown pictures by Adams and his friend and mentor Cedric Wright are on display through Friday at the Chadwick School in Palos Verdes.
From the article: "The 13 pictures by Adams — on display through Friday at the Palos Verdes Library's Peninsula Center building — come from 1941, when Chadwick, now a private day school but then a boarding school, hired him to produce its fifth-anniversary promotional catalog, and 1942, when Adams returned to shoot a tennis exhibition at the hilltop campus featuring the great Jack Kramer."
Read more: 'Never seen' but well-documented Ansel Adams photographs on display in Palos Verdes