Art Center's Graduate Art Department will host an international conference, Everything Is In Everything, on the work of Jacques Rancière March 11 and 12. The theme will focus on "aesthetic education," a philosophical and political program first proposed by Friedrich Schiller in the last decade of the 18th century and the subject of Rancière's recent innovative work on the relation between aesthetics and politics.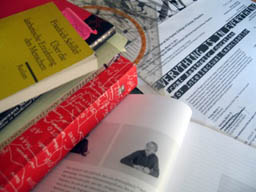 From his earliest work, the theme of education has been at the center of Rancière's concerns. The questions forming the horizon of this conference are: What would it mean to propose a new "aesthetic education" of humanity today? How would the resurrection of this concept transform the current concepts of art, politics and pedagogy? To what extent is it necessary to return to the founding moments of aesthetic theory to re-articulate the relation between art and politics today?
Held at Art Center's South Campus, the conference will bring together senior and junior scholars as well as internationally acclaimed artists working in the field of contemporary political and aesthetic theory.
The conference is free and open to the public, but RSVPs are required. For more information, including the conference schedule and list of participants, please visit artcenter.edu/gradart/conference.