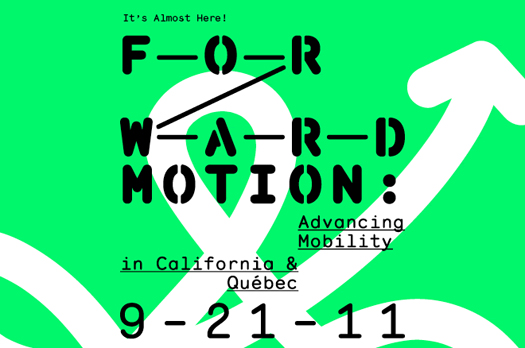 Forward Motion: Advancing Mobility in California & Québec is tomorrow! It's not too late to register for this one-of-a-kind event examining the impact on vehicle and infrastructure design in California and Québec.
Jean J. Labbé, world-renowned transportation designer and Art Center alumnus, will present the keynote presentation, How Design Is Shaping Public Transportation. A leading authority in public transportation design, Labbé has a solid track record of more than 40 projects in the public transportation sector including the U.S.'s first high-speed train, the ACELA Express; New York's high-tech subway cars; Vancouver's Skytrain; China's CRH1 high-speed train and Montreal's new generation subway cars.
Exciting panel discussions will examine new technologies and advanced materials driving North America forward, and the future of electric vehicles, urban transit systems and the infrastructure required. Panelists include:
Sylvain Castonguay, general director for Quebec's Centre National du Transport Avancé (CNTA)
Renaud Cloutier, vice president of business development at TM4
Ed Kjaer , director of Southern California Edison's Plug-In Electric Vehicle Readiness program
Catherine Morency, civil engineer and associate professor at the Department of Civil Engineering and Mining at Montreal's École Polytechnique
Simon Pastucha, principal designer for the City of Los Angeles Urban Design Studio
Pierre Rondeau, director of product design for Advanced Concepts and Design Services at Bombardier Recreational Products
Chelsea Sexton, clean transportation and energy advocate; consulting producer, Revenge of the Electric Car
A networking reception and keynote luncheon will also be part of the event. Don't be left out—secure your spot today.
Forward Motion: Advancing Mobility in California & Québec
Wednesday, September 21
Art Center College of Design Hillside Campus

Tags: Forward Motion: Advancing Mobility in California & Québec, Jean J. Labbé