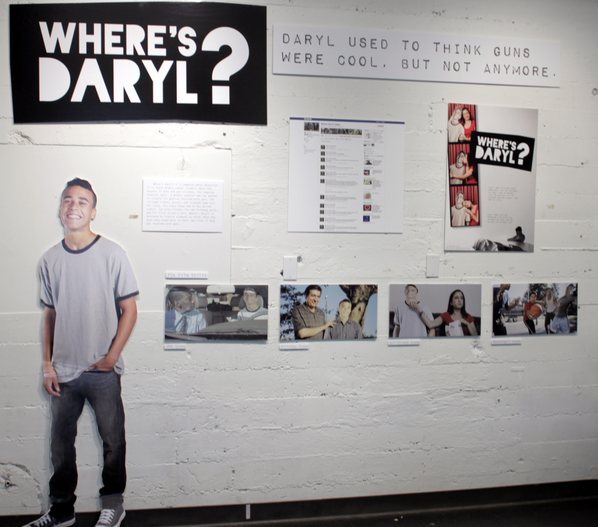 A faculty member and alumna from Art Center's Designmatters program is among the 13 grant recipients in this year's SAPPI Ideas that Matter, a program that helps designers create print projects for charitable causes.
Maria Moon developed the Where's Daryl Teachers Guide, a series of curriculum tools to teach teens the realities of gun violence.
The concept and campaign was conceived by students Thomas Banuelos, Damon Casarez, Rhombie Sandoval and Alex Cheng in the Designmatters UNCOOL Studio, along with instructors Elena Salij, Advertising, and Allison Goodman, Graphic Design.
Instead of using images and statistics, which can be too abstract for pre-teens, "Where's Daryl?" consists of YouTube videos, posters and Facebook pages showing Daryl missing basketball and his girlfriend while he deals with criminal charges.
The pilot program will be implemented this fall and spring in partnership with Los Angeles Unified School District.
The annual SAPPI  Ideas that Matter, now in its 13th year, focuses on using design to create social change by pairing designers with nonprofits from around the world to implement their ideas.
"[Ideas that Matter] is a rare platform that brings to the forefront outstanding talent and initiatives that speak loud and clear about the potency of design driven by purpose," said Mariana Amatullo, vice president of the Designmatters department.
This year's SAPPI judging panel included five designers from across the country recognized for their commitment to solving social problems.
Sappi Fine Paper North America launched Ideas that Matter in 1999, and since that time, has awarded more than $12 million in grants worldwide.
Related:
Art Center Students Rack Up Core77 Design Awards
Emmy Fever: Alum Talents Featured on Top Nominee "Mad Men"