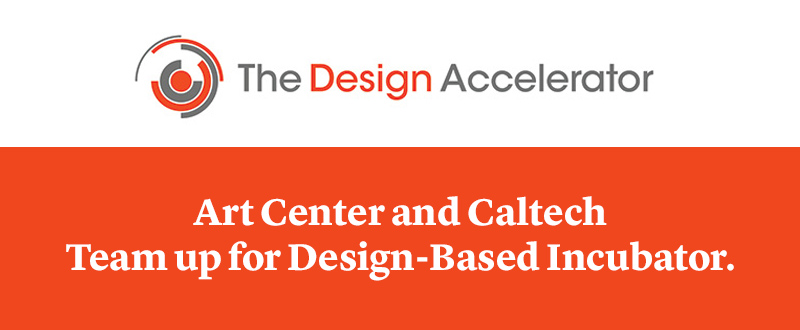 Art Center  and Caltech today announced the launch of The Design Accelerator, an incubator aimed at helping startups grow by merging great design, cutting-edge technology and business strategy to create innovation. The Accelerator initially will be housed within Idealab, which is well known for creating and operating pioneering companies in its own right.
"In today's economy, artists and designers play a vital role as creative leaders and catalysts for innovation and change," said Art Center President Lorne M. Buchman. "Integrating technology, design and business, The Design Accelerator creates an opportunity for Art Center and Caltech alumni to expand on what they learned as students and provides a stimulating space for their concepts to become viable businesses."
The Accelerator is an integral part of Art Center's 2011–2016 Strategic Plan. Understanding students' concerns about employment prospects following graduation, The Accelerator fills a critical gap by giving students and alumni the opportunity to develop their concepts into sustainable and commercial ventures—a bridge between academic and professional life.
Fred Farina, Caltech's chief innovation officer, adds, "We know that making connections across different areas fuels innovation, and that's why we're excited about this collaboration. The combination of our complementary but very different perspectives in a startup team promises powerful results."
The Design Accelerator benefits from its prime location in Pasadena, Calif., which has become a hotbed of innovation and entrepreneurship with vibrant creative, technology and business communities, enriched by the presence of Art Center, Caltech, angel investors and venture capitalists.
"By virtue of their respective international leadership positions in design and technology, Art Center and Caltech are ideally positioned to establish a groundbreaking model with tremendous influence in the business and higher education sectors," said Pasadena Mayor Bill Bogaard.
After an extensive application process, The Accelerator has selected promising early stage, design-driven technology companies from the Art Center and Caltech communities to participate in the intensive three-month program. During that period, the fledgling companies will be located in the Pasadena offices of Idealab, a technology-focused incubator.
Idealab CEO Bill Gross sits on the boards of both Art Center and Caltech and is thrilled to be part of their partnership. "Having started more than 100 companies," Gross said, "Idealab is excited to help bring The Design Accelerator to life, further growing the Southern California startup community. We look forward to sharing with young entrepreneurs the lessons we've learned from 17 years of starting companies."
Businesses are selected for The Accelerator based on their ability to demonstrate the value of human-centered design in support of advanced technologies, and the potential to disrupt the marketplace. Startups in the first class include a foldable electric bike company, a healthcare company focused on using 3D scanning and printing to provide custom-fit medical products and a web-based company that allows consumers to custom design their own household products.
Leading The Design Accelerator are co-founders Mark Breitenberg and Erik Hovanec. Breitenberg is the special assistant to the president of Art Center College of Design and was hired by President Buchman to develop the initiative. He was formerly the provost at California College of the Arts and was president of the International Council of Societies of Industrial Design until 2011. Hovanec has extensive startup experience. He has been the CEO of LeisureLink, Inc. and was an early executive at both Green Dot Corp. and GoTo.com/Overture Services, Inc. He also advises and is an investor in early stage companies in Los Angeles.
"Great design creates emotional bonds and a seamless experience between technology and users," said Breitenberg. "Both startups and the venture community are beginning to recognize the competitive advantage that design brings to business."
The Design Accelerator is the first among Southern California incubators to focus on design. According to Hovanec, "We are focused on using the power of great design to create market disruption, and we believe that markets reward disruption. It's the same phenomenon we see with Apple's smart phones or Pinterest's website."
Teams in The Accelerator's immersive environment will be provided with seed capital from a related investment fund, as well as professional mentorship in design and technology drawn from the world-class faculties of Art Center and Caltech. Mentors in marketing and business strategy from the local community have also joined the initiative. The companies will employ low-cost startup methods and have access to Art Center's preeminent rapid prototyping and 3D modeling facilities. The goal by the end of the three-month term is that each startup will be positioned to raise larger rounds of funding from angel, strategic or venture capital investors.
The California Institute of Technology(Caltech) is a world-renowned science and engineering research and education institution, where extraordinary faculty and students seek answers to complex questions, discover new knowledge, lead innovation, and transform our future.
Caltech's scientific, engineering, and technological contributions have earned national and international recognition, including the 32 Nobel Prizes awarded to its faculty and alumni. Caltech offers a rigorous science and engineering curriculum for approximately 1,000 undergraduates and 1,300 graduate students. Caltech's 124-acre campus is located in Pasadena, California. The Institute also manages the Jet Propulsion Laboratory (JPL) for NASA, and owns and operates large-scale research facilities such as its world-renowned seismological laboratory and a global network of astronomical observatories that includes the Palomar Observatory and the W. M. Keck Observatory. Caltech is an independent, privately supported university.
Art Center College of Design is a global leader in art and design education. Art Center offers undergraduate and graduate degrees in a wide variety of art and design disciplines, as well as public programs for all ages and levels of experience. Renowned for its ties to industry and professional rigor, Art Center is also the first design school to receive the United Nations' Non-Governmental Organization (NGO) status, providing students with opportunities to create design-based solutions for humanitarian and nonprofit agencies around the world. During the College's 80-year history, Art Center's alumni have had a profound impact on popular culture, the way we live and important issues in our society.
The Design Accelerator and its seed-stage investment fund are for-profit entities created by Art Center College of Design in partnership with Caltech.