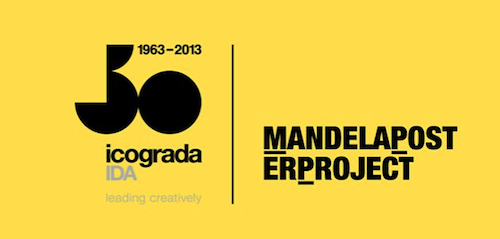 Organizers of the Mandela95 Poster Project suspected this would be an opportune time to commemorate Nelson Mandela's contribution to humankind. But the project — a poster design competition conceived to align with Mandela's 95th birthday on July 18 — may also serve a dual role as a eulogy to the anti-Apartheid revolutionary, who has been hospitalized since falling critically ill with a lung infection on June 8.
Posters designed by eight Art Center Graphic Design students, featured below, were selected for inclusion in the traveling exhibition by the South African Organizing Committee from a large pool of submissions from around the world.
Art Center students entered the competition by way of Graphic Design faculty member, Leonard Konopelski, who turned the project into a class assignment, after Nik Hafermaas, Graphic Design chair, and Mariana Amatullo, Art Center Vice President, Designmatters, alerted Konopelski to the call for submissions. A designer, painter and native of Warsaw, Poland, Konopelski instructed his students to reach beyond the obvious to more metaphorical representations of Mandela's vast accomplishments. "I told them to do something more than a portrait, to interpret who he is and what he stands for," Konopelski recalls. "These posters should convey a humanitarian freedom fighter."
The results of Konopelski's assignment speak for themselves — all eight of his submissions were accepted into the exhibition. Below you'll find each of the winning posters along with the student's explanation of the ideas that inspired each image. Please feel free to seize this opportunity to respond in the comments section below with your thoughts on Mandela's contribution to human rights and how these images illustrate and evoke all he's accomplished.