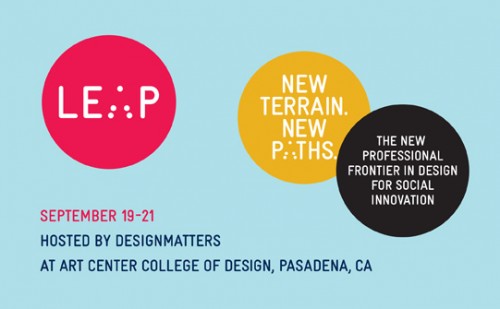 One hundred thought leaders and educators in design and innovation will converge at Art Center College of Design September 19–21 for the LEAP Symposium, a convening comprised of a series of focused conversations exploring new career pathways for designers in the emerging field of social innovation. For more information about LEAP, including participant photos and bios, please visit the newly launched website.
The weekend-long symposium was conceived and hosted by Mariana Amatullo, Vice President, Designmatters Department with a national braintrust that includes: Allan Chochinov, Chair Products of Design, School of Visual Arts and Partner, Core 77; Lee Davis, Scholar-in-Residence, Center for Social Design, Maryland Institute College of Art (MICA); William Drenttel, Director, Winterhouse Institute and Edirorial Director, Design Observer and LEAP Symposium Editorial Director; Robert Fabricant, Vice President of Creative, frog; Jocelyn Wyatt, Co-Lead and Executive Director, IDEO.org.
Portions of the event are open to students, faculty, staff and members of the public. Check out the schedule below. And if you can't attend in person, you can also tune into the livestream of LEAP's opening session and LunchTime Talks here.
Now it's up to you to make the LEAP.
The New Professional Frontier in Design for Social Innovation: LEAP Symposium Lunchtime Talks
9/19 + 9/20 @ 1 -2 pm Ahmanson Auditorium
Art Center College of Design Hillside Campus
Thursday, September 19
Design Innovation at the Intersection of the Public and Private Sector
Moderator: Robert Fabricant, Vice President Creative, frog design
Presentations:
·      Bryan Boyer, Former Strategic Lead at SITRA and Project Manager, Helsinki Design Lab
·      Chris Fabian, Advisor to the Executive Director, Innovation Unit, UNICEF
Friday, September 20
Designing a Social Economy: Professional pathways in the emerging social capital market 
Moderator: Lee Davis, Scholar-in-Residence, Center for Social Design, Maryland Institute College of Art (MICA) 
Panelists: 
·      David Greco, Vice President, Western Region, Nonprofit Finance Fund
·      Kanyi Maqubela, Venture Partner, Collaborative Fund
·      Tara Roth McConagy, President, Goldhirsh Foundation
·      Gabriel Wartofsky, Co-Founder & CTO, Conscious Commuter Corporation
Introduction by Petrula Vrontikis, Professor, Graphic Design, Art Center College of Design
The LEAP symposium Talks are made possible by the Toyota Motor Corporation Endowed Lecture Series.