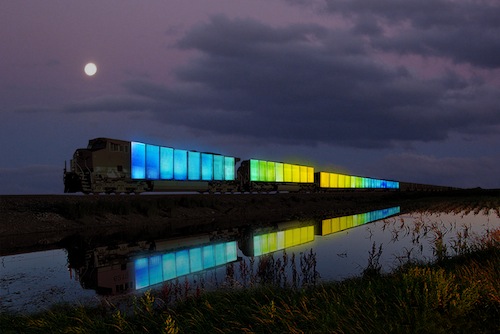 All great art (and even some of the mediocre stuff) can be transporting. Conceptual artist Doug Aitken (ILLU '91) took that idea into the realm of the literal with his latest project, Station to Station, a traveling public art project for which he has commandeered a cross-country train and turned it into "a moving, kinetic light sculpture, which will broadcast unique content and experiences to a global audience." The traveling exhibit, which kicked off on September 6, brings together groundbreaking artists, musicians, writers, filmmakers and chefs for a series of pop-up festivals taking place at train stations along the two costs and at stops in between. And with Levis sponsoring the whole enterprise, don't expect this to be a typical beer-in-plastic-cups underground art scene affair. Aitken managed to recruit a lineup of iconic creators, including Cat Power, Sonic Youth's Thurston Moore, Jackson Browne, Patti Smith, Beck, Urs Fischer, Alice Waters, Ed Ruscha and Rick Moody among others.
If you miss that train, don't fret. Just book a trip to the Emerald City and be sure to stop by the Seattle Art Museum to see Mirror, a new permanent installation by Aitken that wraps itself around the downtown museum's northwestern façade. Unveiled in March, the monumental LED display features a horizontal band of projected images that dissolve into narrow columns of light running up and down the building. To create the images, Aitken shot a vast archive of video footage of the Pacific Northwest that can be choreographed—for Mirror's public unveiling, the work was synchronized to music by minimalist composers Steve Reich and Terry Riley—and that can also respond to the installation's changing urban environment, so that ephemeral factors like weather and traffic all help Mirror decide what to reflect.
For more on Aitken and the Mirror exhibit, check out the Dot magazine story here.