What was your background prior to Art Center?
I was born in Dublin, Ireland and studied multimedia as an undergraduate. I began my career working as a digital and web designer, and early on I knew that I really wanted to start my own studio. After working for a couple of in-house design teams, I couldn't quite find the right fit: designers weren't supposed to have the desire to move so broadly throughout the design process. So I started my own business and worked directly with clients throughout Ireland and UK. It was a fun couple of years and I learned a lot from the experience.
But I had always had a desire to go to grad school, and with my weird mix of interests across disciplines — design and art, technology and code, politics and culture — I became hungry for a new challenge that would integrate more of my own passions and curiosities into my design practice.
Art Center's Media Design Practices program was exactly the kind of interdisciplinary environment I was looking for—innovative, experimental design work that would give me a platform to engage with the bigger ideas, concepts and questions that lay beyond the previous client work I had been doing.
How do you hope to change the world through your work? 
One of the ways in which I hope my work changes the world is through embracing a broader and more critical role for the designer, particularly in regards to how we relate to technology. I dispute that the role of interaction design is solely to increase efficiency and satisfy user needs. I want to see it leveraged to examine, critique and challenge the  assumptions and ideologies that are designed into the behavioral nuances and micro-affordances of our everyday interactions with technology. Design has huge power and potential to drive conversations around issues much broader than simply aesthetics or commerce.
What do you do with your downtime in Pasadena and greater LA? 
There is always more to discover in Los Angeles! My wife and I love exploring the city: people-watching while searching for the best coffee shops, hiking Griffith Park to see the endless grids of neighborhoods, going to exhibitions and concerts with friends, learning to surf in Santa Monica and Malibu, taking road trips up the coast or into the mountains. There's just not enough hours in the day to take it all in!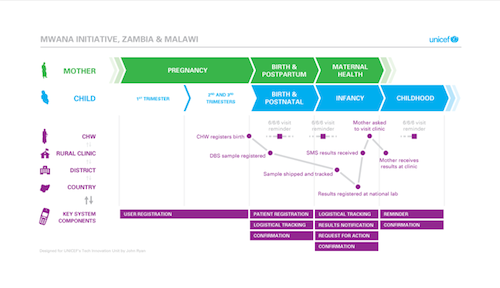 How has the College's commitment to social impact design impacted the direction of your work? 
During the summer of 2012, I worked as the Designmatters and Media Design fellow with UNICEF's Innovation Team. The team leverages design thinking and technology to solve problems and overcome barriers encountered in UNICEF's global work.
One of the main projects I worked on was to create a toolkit for scaling mHealth projects (projects that use mobile technologies to overcome a wide variety of bottlenecks in healthcare systems in developing countries). Working with the team, I developed a simple visual framework to communicate UNICEF's vision for mHealth and some tools which would aid those implementing this strategy. As part of my research, I traveled to Rwanda and facilitated a workshop with some of the world's leading mHealth experts.
A team from frog design saw the work I had done, and decided to use it as the basis for a workshop at the International AIDS conference in Washington, DC. I was invited to partner with the frog team to develop a series of workshop materials based on the framework, facilitate at the workshop, and design documentation in the follow-up.
As a designer, it was a huge privilege to have taken part in this work. It was an incredible opportunity to see how design can not only communicate strategy, but also provide tools for discussion, concept development and shared understanding. All in all it was a incredible few months, one that I will remember fondly and work that I hope will have a lasting impact.
Biggest creative challenge/breakthrough you've faced while at Art Center?
One of the biggest creative challenges I faced when I started at Art Center was learning to embrace failure. It turns out that it may also have been one of my biggest breakthroughs!
Before grad school, I hadn't realized how negatively I saw failure, and therefore how inclined I was to move rapidly towards a 'successful' solution. In the Media Design Practices program, I was pushed to work in rapid iterations; quickly sketching ideas (in drawings, code or physical models). Though these explorations fall short of any desirable 'final' solution, their failures and successes inform the future development of a project; feeding into a much stronger finished design. Failures become markers that help to define the direction of a project; they become experiences to learn from, valuable insights that would not otherwise have been uncovered.
Why is receiving a scholarship important to you?
My graduate education at Art Center would not have been possible without the scholarships I was honored to receive. The costs involved in moving to the US, living here and tuition can be prohibitive for international students, but with the generous support of the school's scholarships, I was able to pursue my education and my dreams.