This Saturday, following years of all-nighters, critiques, finals, internships and hopefully some fun, 153 Art Center students will graduate. As that day approaches, we take time to celebrate these creative and talented individuals who are about to take on the world and, as is custom at our Fall Graduation, we also honor alumni who have already paved the way. Here's the lowdown for the week.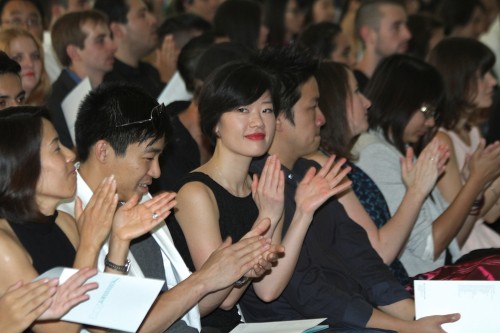 Thursday, December 12: Graduation Show Preview
Industry leaders, employers, corporate partners, donors and alumni get the first look at the Fall term's graduating artists and designers at the invitation-only Graduation Show Preview. This event, hosted by Alumni Relations to welcome new graduates into the community, gives our graduating students an opportunity to network with potential employers and fellow alumni. The show features student projects from major fields of study at Art Center, including Advertising, Entertainment Design, Environmental Design, Film, Graphic Design, Illustration, Photography and Imaging, Product Design, Transportation Design, Graduate Film and Graduate Industrial Design.
Graduation Show Preview will be held at Hillside Campus from 6 to 9:30 p.m., with a private reception immediately following.
Friday, December 13: MDP Work-In-Progress Show
Media Design Practices is holding a work-in-progress show from 6 to 10 p.m. in the Wind Tunnel Gallery at South Campus (950 South Raymond). The MDP/Lab track will be presenting thesis work in progress from their Ciphertexts & Cryptoblob inquiry and the MDP/Field track with be featuring projects from Kampala, Uganda.
Saturday December 14: Graduation
Join us in the Sculpture Garden at Hillside Campus from 4 to 6 p.m. for our graduation ceremony. At the ceremony, we will honor three of our alumni who will be presented with Alumni Awards. This year, all the awardees received degrees in Product Design. Gordon Bruce will receive the Lifetime Achievement Award, Stan Kong will receive the award for Outstanding Achievement and Spencer Nikosey will receive the Young Alumni Innovator Award.
Gordon Bruce is principal of Gordon Bruce Design LLC and has been a design consultant for 40 years. From 1991 to 1994, he became involved with design education as consulting Vice-President for Art Center's Kyoto program. He also served as the Chairman of Product Design for the "Innovative Design Lab of Samsung" (IDS) in Seoul, South Korea–a unique internal design school championed by Samsung's Chairman Lee Kun-Hee. Later he played a role in helping Porsche Design establish an office in the USA. For many years, he served as head design consultant for Lenovo's "Innovative Design Center" (IDC Beijing) and for Changhong in China. Recently, he worked with GE Appliances in the United States; presently, he works with Buhler in Switzerland and Huawei in China.
Stan Kong has been teaching at Art Center for 30 years in the Transportation Design, Product Design and GradID departments, as well as through Art Center at Night. He also teaches product design at Pasadena City College and is very involved in the Pasadena community, serving on many boards of arts institutions including the Armory Center for the Arts, the Rowe and Gaye Giesen Trust and the Visual Arts and Design Academy. He is a founding member of Legacy Circle, Art Center's alumni fundraising group that was founded in 2006 by Stan and fellow alum and faculty member Ramone Munoz. Stan has won countless awards for his service and leadership and has mentored thousands of students from PCC to Art Center at Night through Art Center.
Spencer Nikosey launched his company KILLSPENCER, a sought-after brand and model of sustainability, at his Graduation Show in December 2008. He recently opened a boutique in Silver Lake. He graduated with Honors in 2008. Killspencer collaborations include a special Heineken backpack for the #Heineken100 program and an iPhone veil with illustrator, artist and designer James Jean.
We will also hear from Illustration student and valedictorian Cheryl Johnson and present the Art Center Student Leadership Award to Fine Art student Kristy Lovich.
After the ceremony, Graduation Show opens to the public from 6:00 to 9:00 p.m., where work by the newest Art Center graduates will be on display.
Congratulations to our Fall 2013 graduates!