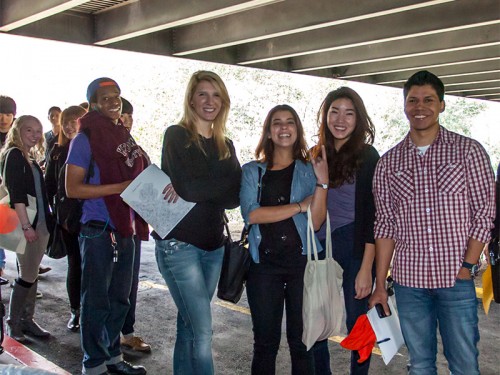 This week, Art Center welcomes new students to a week of orientation activities organized by the College's Center for the Student Experience.
"New student orientation is the moment in which students' first impressions and experiences are made," says interim Dean of Students, Kendra Stanifer. "The orientation helps students to create connections to the College and to each other that will build the community they live in for the next 3 to 4 years."
Here's the lineup of activities designed to immerse new students in Art Center culture and maximize their experience here, both in and out of the classroom.
Tuesday, January 7

8:30–9 a.m.: New student orientation check in.
9–9:30 a.m.:  President Lorne M. Buchman, Kit Baron, Senior Vice President of Admissions and interim Dean of Students, Kendra Stanifer, welcome new students.
9:45 a.m.–noon: Tour the campus and have lunch with peer mentors (12–1:30 p.m.).
1:30–3 p.m. or 3:30–5 p.m.: Undergraduate students have the option of taking digital waiver tests.
2–5:00 p.m.: Graduate student orientation and course selections.
Wednesday, January 8
8:30 a.m.–12:45 p.m.: International student orientation. Assistant Director for International Student Advising and Programming Jeonghan Ryu and Coordinator for Intercultural and Diversity Programming Milyn Villareal welcome new international students.
10:15–11:45 a.m.: Financial literacy seminar for domestic students receiving state and federal aid with Financial Aid Assistant Director, Kuniko Reynolds.
12:45–4:30 p.m.: A round of sessions for all students to learn about campus sustainability, health insurance, the library, alumni relations and more.
Thursday, January 9
9:00–9:30 a.m.: Information on campus technology and equipment insurance, followed by tips on managing class schedules and academic progress.
9:30 – 10 a.m.: Tips on managing your schedule and assessing academic progress
10 – to 11 a.m.: Faculty panel discussion
11 – 12 p.m.: Get the inside scoop on life at art center from current students
12:15 – 1:30 p.m.: New student lunch
10:15–11 a.m.: A crash course on the infamous Art Center critique, the culture of critique, researching as a resource for inspiration and interpreting objects and images.
1:30–4:30 p.m.: Students tour the James Lemont Fogg Memorial Library, tend to administrative business (ID cards, parking information, course logins) and partake in special peer mentor activities. Bring new student information form and vehicle registration.
Friday, January 10
8 a.m.–noon: Parents, spouses, partners and other family members are invited to an informal breakfast followed by a campus tour and orientation.
11:30 a.m.–2:30 p.m.: Student lunch with department chairs, followed by a departmental orientation.
Reminder: Classes officially begin Saturday, January 11.
Welcome to Art Center College of Design. Now go create, make and be inspired!