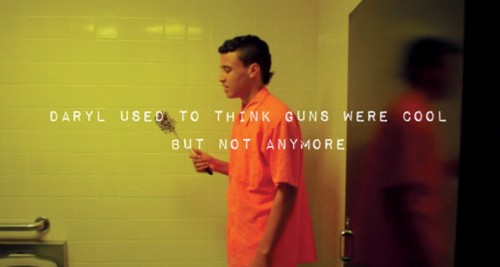 Los Angeles Unified School District (LAUSD), the nation's second largest public school system, has joined forces with Art Center's renowned social impact department, Designmatters, to implement Designmatters' cutting-edge health curriculum, Where's Daryl? Designed to get teens and tweens talking about gun violence in an effort to prevent it, the middle school classroom toolkit is part of Uncool: The Anti-Gun Violence Project, an award-winning program supported by the Nathan Cummings Foundation and dedicated to the memory of Norman Schureman (Product Design '85), a beloved Art Center instructor who lost his life to gun violence in 2010.
Four Art Center undergraduates—Thomas Banuelos, Damon Casarez, Alex Cheng and Rhombi Sandoval—created the core concept for Where's Daryl? as part of a Designmatters studio led by faculty members Allison Goodman (Graphic Design) and Elena Salij (Advertising). Alumna Maria Moon (Graduate Media Design Practices '08) expanded that concept for classroom use, winning a 2012 grant from Sappi Ideas that Matter, a program that helps designers create print projects for charitable causes. Working closely with Designmatters Director Elisa Ruffino and with education experts including curricular specialists at LAUSD, Moon designed a comprehensive curriculum that meets California state health teaching standards while keeping kids engaged with the material.
It's a great example, says Ruffino, of Art Center students and alumni "addressing public policy through design strategies."
Eight stand-alone lesson plans revolve around "Daryl," a fictional middle schooler who thinks firearms are cool—till his own life is derailed after he gets involved with guns. The toolkit contains materials like posters and preprinted worksheets and fact sheets (no photocopying required), as well as Where's Daryl? stickers and buttons that students wear, teachers say, like a badge of honor. Lessons center on interactive storytelling through discussion, role playing and creating collages. The emphasis is on understanding personal influences, choices and consequences.
The curriculum also comes with a series of short videos and a life-sized, foam-board cutout of Daryl, who becomes something of a classroom mascot. Cutout Daryl also stars in the videos in which he is conspicuously, sometimes humorously, missing out on his own life when he faces criminal charges. The videos' almost slapstick portrayal of his friends' lives without him is at once funny and sad: Cutout Daryl is repeatedly knocked down by a basketball when his buddies try to involve him in a game of pick-up, and his girlfriend experiences an awkward kiss with his foam-board substitute.
Humor aside, at-risk students fully grasp the seriousness of Daryl's entanglement with guns. So far eight LAUSD schools have used the materials, reaching more than a thousand students, and preliminary results are impressive.
"A formal survey found that a majority of participating teachers had never addressed issues of gun violence in their classrooms," says Ruffino, "and an even larger majority reported that the Where's Daryl? curriculum was an effective tool in doing just that. The survey also showed that students' knowledge and attitudes about guns and gun safety improved significantly after they completed the curriculum."
"This campaign empowers students to foster their own actionable language, identify their trusted network of support and discover their own voice with regard to gun violence," says Moon, who now works at Samsung Design America.
"Designers shape human experience within a broader scope than ever before," notes co-founder and Vice President of Designmatters, Mariana Amatullo. "And they are increasingly recognized for their capacity to innovate in an uncertain world. Educational initiatives that come out of the Designmatters program bridge the public and private sectors to create new forms of practice."
Designmatters is now exploring possibilities for expanding the successful LAUSD pilot program.
This story originally appeared in Art Center's Fall 2013 Dot magazine. Read more online about Art Center news and alumni accomplishments.
Related:
Art Center Honors the Memory of a Faculty Member with a Visit to his Children's School