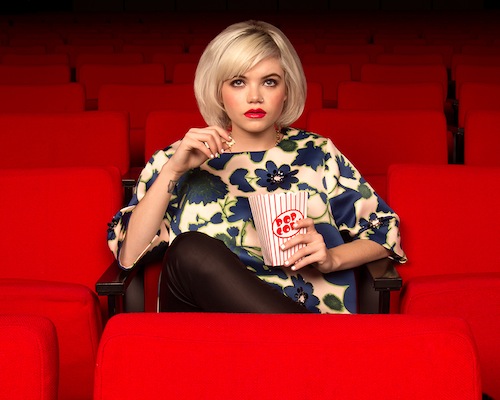 Film lovers and film makers from around the world will be celebrated and honored at DIFF LA, the Dot Independent Film Festival of Los Angeles, a student organized gathering on Saturday, June 7, 2014 from 9 a.m. until 10 p.m. on the Art Center College of Design Hillside Campus at 1700 Lida Street in Pasadena. The event is free and open to the public. More than 200 U.S. and international student filmmakers vying for exposure in the celluloid landscape submitted work hoping to be selected to screen and maybe even stand out as an award winner in this 2nd annual festival.
Kicking off the event is Greg Silverman, president, Creative Development and Worldwide Production, Warner Bros. Pictures and Art Center Trustee. Additional special guests making appearances during the day are film director and Art Center alumnus Tarsem (Immortals, Mirror Mirror, The Fall) and commercial director Tom Kuntz (Old Spice, Skittles, The Man Your Man Could Smell Like).
Silverman has full oversight of Warner Bros. Pictures' development activities, global production and budget. During his long tenure with the Studio, he has shepherded such pictures as the enormously successful and critically acclaimed 300, The Dark Knight, The Hangover and the global phenomenon Inception, in addition to this year's The LEGO Movie, which has grossed more than $460M worldwide.
A film festival for students organized by students, DIFF LA targets a new generation of visual storytellers. Festival Director Ché Thornhill says the day is planned to be a tribute to creative innovators, film students from across the globe who, out of sheer necessity breed innovation and originality to get the shot despite the hurdles.  "This is a chance for us to bask in the glory of that shared artistic mission and celebrate achievement plus launch a community of support for making future inspired work together," he said.
Women filmmakers will share their experiences on the journey through the harsh business of moviemaking. These notable artists include Sami Kriegstein, Janicza Bravo, Isabel Cueva and Mego Lin.
Another panel will feature filmmakers Samuel Gonzalez, Jr.; Montana Mann, John X. Carey and music video director Jon Jon Agustavo, all Art Center alumni, who will offer insider industry knowledge to the audience. Carey directed Dove Real Beauty Sketches, a 3-minute video about female self perception that hit a nerve and became the most watched Internet commercial of all time in less than a month online.
DIFF LA attracted film students from a vast number of schools to unite, form collaborative relationships and inspire one another. The competition attracted artists from 16 countries as far away as South Korea, Australia, India and Spain.
"I wish they had a film festival like this when I was in school," exclaimed Man of Steel director and alumnus Zack Snyder when he opened the 2013 festivities. Last year's inaugural event also featured Q&A's with photographer/director Matthew Rolston, Valerie Faris and Jonathan Dayton, who co-directed Little Miss Sunshine and Ruby Sparks.
A jury of 12 distinguished international judges went through the challenging task of selecting the best work from 200 films submitted by students from more than 40 film schools around the world.  Films will be screened and honored in these categories; Animation, Experimental, Commercial, Music Video, Narrative Directing, Cinematography, Writing and Editing.
A special award named in memory of Art Center film adjunct professor Michael Gottlieb who died May 23 in a tragic motorcycle accident, will be presented to a film representing the most innovative among the entries. Filmmakers nominated for The Gottlieb Award for Innovation $500 cash prize are Tim Hendrix (Art Center) for Dresses – Painting Roses, Tom Teller (Chapman) for Harley, Steve Dabal (Art Center) for Tree – Stuck Down the Wrong Rabbit Hole and Ben Weiss (Art Center) for Lineman. As a movie writer/producer/director, Gottlieb's many credits include Mannequin (1987), The Shrimp on the Barbie (1990), Mr. Nanny (1993) and A Kid in King Arthur's Court  (1995).
DIFF LA 2014 is made possible with support from LA Weekly, Courtyard by Marriott – Pasadena, Final Draft, Avion Tequila, Pro8mm and HoverCam.
Hope to see you there! If you're tuning in from another part of the world, check out the live stream at the diffla.org site throughout the fest.