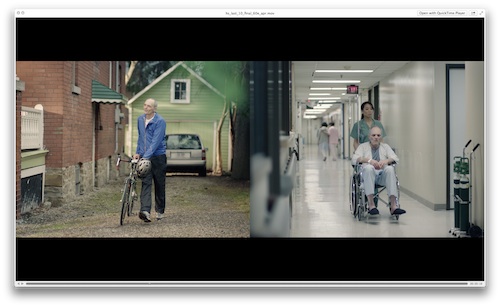 As a teenager, Sean Ohlenkamp had already set his sights on a career in advertising.
"I was watching the Super Bowl with some friends and laughing my butt off that people actually get to make these commercials for a living," recalls Ohlenkamp (BFA 03), Digital Creative Director at Leo Burnett Toronto. "I thought it sounded amazing, a kind of mix of comedy, art and creativity. So I pretty much knew from the age of 16 or so that it was something I wanted to pursue."
Today, Ohlenkamp works across digital, film, photography, print, illustration, design and product design platforms. His independent viral stop motion video The Joy of Books for Type Books has drawn upwards of 4 million views on YouTube, and his interactive online ads for the ALS Society of Canada and print ads for Nissan have earned high praise for their arresting originality.
Working in numerous mediums—photography, clay, paper and pen, Dreamweaver, InDesign and Illustrator, to name a few— Ohlenkamp prefers not to define his multifaceted work.
"I flat out don't," he says. "I don't think we should solve a problem as determined by a media buy or as determined by a medium. We should look at the problem holistically and see what's going to have the greatest effect—whether that be filming something, building a piece of utility or just screaming a message from the side of a building in a really interesting way."
Born and raised in Los Angeles, Ohlenkamp was introduced to Art Center by his grandfather, who had attended there on the G.I. Bill in the 1940s. After high school and a few community college classes, Ohlenkamp was accepted to Art Center and found, "from day one, a very different way of learning. That kind of critical thinking and one-plus-one-equals-three mentality was not something that ever occurred to me before. What Art Center taught me was how to think," Ohlenkamp says. "Sure, you learn a lot of technical skills while there, but more than anything, I learned how to think differently.
"I was also really lucky that while I was attending Art Center, I got to teach in the Art Center for Kids program," he adds. "That just reinforced the kinds of thinking tools that I was given during my time there."
While humor is part of Ohlenkamp's creative signature, his striking campaigns for the Heart and Stroke Foundation and the ALS Society of Canada reflect a serious commitment to nonprofits and good causes.
"I definitely like the mix," Ohlenkamp says. "It does kind of break it up to get to go from very heartfelt messages that make people aware of things like heart disease or ALS, to doing something a little bit more fun—like selling a French television network and letting people dance on a piano that controls opera singers [Le Piano Vivant]. I think the ability to have that range keeps you a little bit more balanced in your work."
Entertainment is important, but so is utility, Ohlenkamp says. "That's one thing that often gets missed as an opportunity to be creative. Everyone tends to go for the quick win with a funny joke or a punchy commercial, but building something that changes the way people behave for the better is not only interesting as a creative solution, but powerful. At the end of the day, we're trying to effect change. That's our job, whether it be for a business or a charity."
What advice would he give Advertising students at Art Center?
"I got so much feedback at Art Center that helped me figure out what my own voice was as a creative," Ohlenkamp says. "It is really important to use the experience of having all of these brilliant people around you to help you figure out what your voice is. Accept any feedback that has anything to do with clarity. No matter how funny you might think something is, if it's not clear," he says, "we're not doing our job as communicators."
Also keep in mind that idea is king, Ohlenkamp added. "Don't get caught up in a portfolio of a dozen print ads. Use technology and digital platforms in unique and innovative ways. Media does not lead the world of advertising anymore in the better agencies. It really is about the idea and solving a problem for a business in a unique and effective way."
—Lynne Heffley is a Los Angeles-based freelance journalist who writes about the arts.