This month, hip British publisher, Nobrow, releases Eventually Everything Connects, a book by recent Art Center Illustration alumna Loris Lora exploring the artist's insight into the Californian modernist movement.  If this book, which makes its U.S. debut in March, is anything like previous Nobrow works, it'll be a far cry from your typical tome, more closely resembling an objet d'art.

The project began during the Illustration department's recent Ancient/Modern study abroad class in London, taught by Paul Rogers, Clive Piercy and Ann Field, department chair. Students were assigned to create a piece related to California Modernism and then present their ideas to representatives from London's professional community.
The Nobrow team was impressed with Loris' poster, featuring connections between designers and artists in L.A. during the decade or two after World War II. They then asked her to adapt the idea into a Leporello format book–the term refers to a book folded into an accordion-pleat, also known as a concertina fold. Loris was able to accomplish this feat while juggling all the demands of her final term; and has already been hired for illustration work by The Wall Street Journal, The New York Times, The Los Angeles Times and UCLA Magazine to name a few.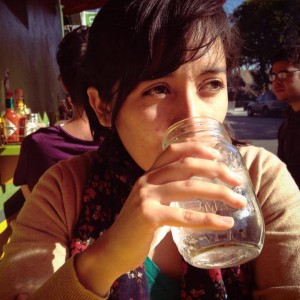 "While we have had student work featured in major book publications before, it is highly unusual for a young artist to be offered such a splashy, completely self-authored project while still a student," said Illustration faculty member David Tillinghast. "Loris's use of vibrant colors and stylized designs are a nod to mid-twentieth century illustration while remaining completely contemporary. The strength of the work lies in its visual sophistication and mastery of craftsmanship, shape, scale and composition. Whether she is tackling portraits or children's books, maps or 3D constructions, she combines deft drawing with a sense of humor and top-notch storytelling."
"Loris was one of those students that always seemed to know just what she wanted to do," said fellow Illustration faculty member, Paul Rogers. "Her style developed quickly at Art Center and she was smart enough to look ahead and think about where her work could be applied after graduation."
"The great thing for Loris with this book is that it will serve as a springboard for her illustration career," Rogers continued. "Nobrow books are sold in all the places a young artist wants to have their work seen, and art directors on both sides of the Atlantic look at the publisher's books to find new artists. Loris delivered a masterpiece with her first project out of school, and I'm looking forward to seeing what she does next."
That's the kind of endorsement most students only dream of hearing from a faculty mentor. So we at Dotted Line decided to track down Loris to find out what fuels her creative clarity.
Dotted Line: What inspired the work in Eventually Everything Connects?
Loris Lora: It was during the London/Ancient Modern when I found interest in the relationships between a wide range of creatives in mid-century California. "Eventually Everything Connects" is based on a quote by Charles Eames: "Eventually everything connects–people, ideas, objects. The quality of the connections is key to the quality per se." I felt like it was such an appropriate quote for the map I was creating that I decided to include it. To me it defined what California Modernism was all about.
DL: Who are your major influencers?
LL: Definitely, a lot of the mid century designers/creatives featured in the book, especially Charles and Ray Eames, Alexander Girard and Saul Bass. Stylistically, mid-century artists like Miroslav Sasek, Mary Blair and Charley Harper just to name a few.
DL: What has helped to form your sense of humor? 
LL: I think I'm a person that doesn't take everything too seriously. I love working hard and being able to have fun with the process. I watch a lot of comedies, old and new, plus I live with a comedy writer and a lot of it transfers into my work.
DL: How does it feel to be published? 
LL: I feel very fortunate to have been given such a great opportunity. I'm very excited to see the reception the book gets once it's out. It's also a little surreal; it wasn't that long ago that I was an Art Center student, taking a handful of classes and staying up really late to work on class projects.
DL: What do you hope the people who buy the book take away from it? 
LL: I hope it sparks some curiosity about who some of these people are and also share a few fun facts about this particular time period in mid-century California.
DL: What attracted you to the California Modernist movement?
LL: I found that I was particularly interested in the relationships between some of my favorite creatives. One of the first connections I remember researching about was Charles and Ray Eames' friendship with legendary filmmaker Billy Wilder. Then finding out Billy Wilder was also good friends with designer Alvin Lustig.
DL: Do you have another book in the works? 
LL: I'm not currently working on any books, but I'm always trying to think of different ideas for book projects. I would love to be able to work on children's books and other kinds of illustrated books.
DL: What is your dream come true assignment?
LL: This book was definitely a dream assignment, working with everyone at Nobrow was such a pleasure. I was given a lot of creative freedom in how I wanted the book to look and they were very respectful and helpful in the process. I hope to be able to get more assignments like this and continue trying to make a living doing what I love.