Cloud 9, an award-winning Barcelona-based firm known for its dynamic, cutting-edge architecture, has collaborated with Art Center's Environmental Design Department to design and fabricate a work/play pavilion for a residential site located on Spain's Costa Brava.
Students from multiple disciplines were challenged to create an innovative structure that would draw inspiration from the local environment (a Mediterranean hillside amid tall pine trees), integrate new media, and become a case study for future projects. Cloud 9 director Enric Ruiz-Geli, imbued by Buckminster Fuller's interest in natural geometry and parametric design, gave students their brief in February 2013 and followed up with regular visits as the project progressed. Concepts were developed and prototyped at the College's Hillside Campus in Pasadena before being implemented at the site in Spain.
The Transdisciplinary Studio became a living laboratory as the students experimented—on stovetops, in backyards and even on the beach—making windows out of pine resin, forming furniture from sand, and designing a "sound garden" that produces music triggered by the interaction between humans and plants.
On-site construction began last January, when a giant, igloo-shaped balloon was inflated to support the web-like formwork of rugged fabric, into which a lightweight, high-strength concrete mix was injected. Circular plywood "plugs" created the standoff for the oblong window forms. The partially completed, visually striking structure is pictured on the cover of the Fall 2014 issue of Dot magazine, and three videos of the project are featured online. When finished, the windows will frame textured, translucent panes made of amber-colored pine resin; and the plugs will be translated into furnishings made from a mixture of sand from the site and a bio-resin developed by the student team.
Cloud 9 was first introduced to Art Center by Graphic Design Chair Nik Hafermaas in 2012, and the project was coordinated by Art Center's Educational Partnerships office and Environmental Design Chair David Mocarski, with lead faculty James Meraz, Jason Pilarski (MFA 97) and Kenneth Cameron.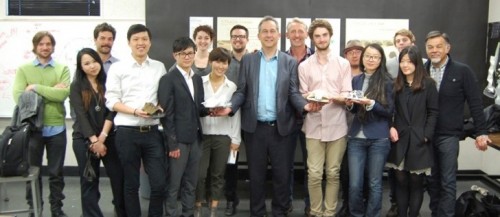 Project Credits
ART CENTER COLLEGE OF DESIGN
Environmental Design:
David Mocarski, Chair
Faculty:
Prof. James Meraz
Jason Pilarski
Kenneth Cameron
Student participants:
Wen Han
Marc Dubui
Sean Chen
Ina Kanoki
JD Clark
Stefanie Dhillon
Andrew Walton
Anastasia Hanan
Stella Lee
Jacques Perralt
Ryan Oenning
Kit Cheong
Jimmy Lin
Ji A You
Paul Hoppe
Shani Park
Core student group and on-site team:
Wen Han
Marc Dubui
Sean Chen
Sound/music collaboration:
Colin Honigman
CLOUD 9
Principal Architect:
Enric Ruiz-Geli
Project Architect:
Marc Zaragoza
Coordination:
Victor Llanos
Mireia Luzarraga
Felix Fassbinder
Team:
Alberto Delgado
Stuart Maggs
Chiara Paolini
Glafki Antoniou
Iker Mugarra
Kenneth Cameron
Mireia Pallarès
Juan Carlos Avila
Marga Ruiz
Kass Kajang
Dori Sadan
Victor Comeche
Mila Moskalenko
Carla Bach
Niccolo Marini