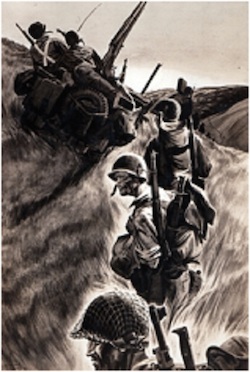 The following Pasadena Now article adds a concise bit of context to Art Center's new show of work by illustrator Carol Johnson. The exhibit opens today in the College's newest gallery space, the Hutto-Patterson Exhibition Hall, located within South Campus' Illustration and Fine Art hub at 870 South Raymond Avenue. This show offers a rare glimpse at both Johnson's uniquely evocative illustrated narrative about WWII and, ultimately, our evolving relationship with war and how its atrocities and triumphs are conveyed and covered. And for those who have yet to visit Art Center's newest building, this ongoing exhibition also represents the perfect opportunity to pay a visit to the meticulously renovated former US Post Office warehouse. 
Art Center College of Design presents Drawing Fire, an exhibition curated by alumnus Brody Albert, bringing attention to the work of his grandfather, illustrator Carol Johnson. As a World War II correspondent, Johnson helped translate the immediate experience of war into raw observational sketches for nationally syndicated newspapers, conveying a first hand experience of the war into the households of thousands of Americans.
The exhibition will feature more than 70 drawings and printed ephemera displayed in tabletop vitrines, in addition to several paintings. The images depict combat, prisoners of war and daily life in the North African Campaign. A selection of the drawings were published in Ernie Pyle's canonical book on the Second World War Here is your War. With this never-before-exhibited collection, Art Center seeks to engage the local community in Pasadena and the greater Los Angeles area through a deeply meaningful conversation about history, trauma, and representation. One of the most striking features of the drawings, in an age dominated by digital technology, is that Johnson documented combat through the human hand.
Carol Johnson was a celebrated illustrator whose career spanned more than 35 years. He was a lead illustrator for the New York advertising agency Ogilvy and Mather and created cover images for numerous magazines, including Boys' Life, Colliers and American Weekly. Johnson passed away in 2003 at the age of 86.
Brody Albert is an artist and curator living in Los Angeles. He is the director and founder of artist-run gallery Office Hours. He is currently pursuing an MFA at University of California, Irvine and received a BFA in Illustration and Fine Art at Art Center College of Design in 2011.
The Hutto-Patterson Exhibition Hall (870 S. Raymond Ave., Pasadena) is located at Art Center's South Campus in Pasadena, California, less than one block from the Metro Gold Line Fillmore Station. Entry into the exhibition and supporting programs (held at both campuses) are free and open to the public. No RSVP necessary. For more information, contact (626) 461-4378.
Art Center College of Design South Campus is located at 870 S. Raymond Ave., Pasadena and its Hillside Campus is located at 1700 Lida Street, in Pasadena. For more information about Art Center College of Design, visit www.artcenter.edu.
Exhibition dates
January 15-April 4, 2015
Hutto-Patterson Exhibition Hall (South Campus)
Opening reception
January 15, 2015 at 7pm
Hutto-Patterson Exhibition Hall (South Campus)
Film screenings
January 26, 2015 at 7pm
Ahmanson Auditorium (Hillside Campus)
Visiting artist Jennifer Pastor
February 23, 2015 at 7pm
Room 150 (South Campus)
Guest speakers, illustrators Victor Juhaz and Janet Hamlin
March 23, 2015
Location TBD