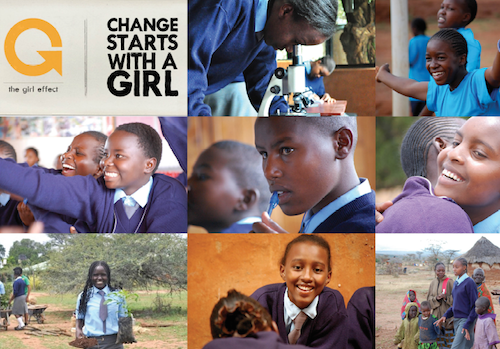 In the fall of 2014, Designmatters and Art Center's Product Design Department collaborated with the Nike Foundation, Yale School of Management and fuseproject with the challenge of empowering and getting resources into the hands of adolescent girls living in poverty around the world. Student teams on both coasts built on existing everyday practices and developed social impact design ideas for income-generating and time-saving tools and techniques that are widely accessible, radically affordable and can be used intuitively by girls in diverse cultures all over the world.
In this innovative studio, Art Center's commitment to global social and economic justice was inspired by and dovetails with the Nike Foundation's belief that adolescent girls can play a crucial role in solving the toughest problems facing the world. When a girl living in poverty has the chance to reach her full potential, she isn't the only one who escapes the circumstances she was born into. She brings her family, community and country with her. This is called the Girl Effect.
Too often the reality for a girl in poverty is a life of limited education, unending household responsibilities and unfulfilling income-generating work to help support her family. However, research has shown that when an adolescent girl in poverty is able to stay in school, delay marriage and delay having children, not only do her life chances radically change, but the children she will later have are far more likely to be healthy and educated.
The 'Girl Effect' Studio represents a groundbreaking international challenge that builds on the pioneering efforts of the Girl Effect movement, created in 2008 by the Nike Foundation in partnership with the NoVo Foundation, United Nations Foundation and the Coalition for Adolescent Girls.
The Nike Foundation has played an important role in the international development community, where the plight of adolescent girls is receiving increasing attention as attested by the 2009 World Economic Forum and initiatives from the World Bank and the Clinton Global Initiative among others.
An estimated 250 million adolescent girls live in poverty worldwide. Many of these girls are responsible for labor-intensive household chores; their economic independence and human potential is often greatly constrained by complex and interrelated cultural and socio-economic factors such as limited access to education, child marriage and teen pregnancy.
The 'Girl Effect' Studio challenged student teams to envision and develop an ecosystem of access to tools, products, and services, "an ecosystem of access to things," with integrated scalable and sustainable business models and strategies. Inspired by the Girl Effect – the unique potential of adolescent girls to end poverty for themselves and the world – the focus of the studio was to create innovative, affordable and accessible physical assets that are currently not available to girls living in poverty. As part of their design research and conceptual development process, students explored many "A Day in the Life" scenarios and considered the current tools girls use daily for sewing, mending, cooking, cleaning, fetching water and firewood, as well as other tasks.
The teams were faced with the overall project goal of generating new time-saving tools and practices that could create potential income opportunities that girls could easily learn, acquire and leverage.
Partners and Planning
The 'Girl Effect' Studio builds on the Nike Foundation's vision of the power and potential of girls around the world and brings together Art Center's Designmatters and Product Design Departments, Yale School of Management (SOM) and fuseproject, an award-winning, San Francisco-based, industrial design and branding firm founded by Art Center alumnus Yves Behar.
With its humanitarian and global themes, the studio appealed to a wide variety of Art Center students majoring in product, photography, advertising, environmental design, industrial design and illustration.
Art Center students were teamed with MBA students from Yale School of Management's Design and Innovation Club who offered concurrent strategic integration to the proposed design concepts during the ideation, development and making phases of the studio.
This unique and collaborative pairing informed the design students' understanding of the rationale behind developing viable business models; meanwhile it also allowed their business counterparts to gain a deeper understanding of the iterative ideation and prototyping design processes necessary to bringing new products and services to life.
Since the students were unable to perform hands-on fieldwork due to the studio's global scope, the Nike Foundation and fuseproject provided initial detailed research and framework, allowing students to explore verticals and cross them with human benefits to create advantageous global strategies and prototypes.
Overall, working long-distance with multiple teams through current technological avenues and leveraging pre-established research provided students with practical experience on the current state of design where designers interface daily with transdisciplinary teams to develop concepts and strategies from different geographies.
Research and Project Development
Student teams on both coasts built their concepts relying on rigorous secondary, and sometimes primary research and expert guest informants. They grounded design ideation on existing everyday practices in order to propose social impact design solutions that are characterized by radical affordability, accessibility and scalability across diverse cultural contexts.
Initially, students needed to discover as much as possible about the reality of living in poverty without the benefit of first-hand knowledge, research trips or face to face inquiries with specific communities.
These constraints required research and data collection outside the classroom as well as utilizing the knowledge of instructors, numerous guest speakers, appropriate case studies, online resources and local proxies who could serve as research subjects. In many cases, students contacted current experts in the field for supplemental in-depth questions and advice.
A team from fuseproject presented their field experience with the Nike Foundation in Rwanda to the students and were available to answer questions, provide context and offer specific insights and feedback throughout the course.
Each team developed a Value Criteria of how their product would improve the lives of young girls, and that criteria guided their decisions, business model, product design and direction.
Beginning with one product concept, student teams investigated different elements (technology, manufacturing, use, distribution, etc.) to imagine the multiple ways the product could exist. From there, students built a case to suggest a product/solution that would best fit their Value Criteria, business model and ultimate customer.
For the first half of the curriculum instructors fashioned multiple assignments involving hands-on prototypes that gave students a richer understanding into an item's functionality, affordability, ergonomic design, and accessibility. These assignments spurred student thinking, refocusing their vision of how their typical tools/materials could be dramatically transformed into a new purpose and/or toolkit.
While students were given specific demographic regions (rural, peri-urban and urban) for their projects, the universality of the design was top priority.
Students charted the landscape and users' experience, including a step-by-step process of "How Can We Make This Better?"
Another challenge for this phase focused heavily on a business perspective, which presented another layer of research for student teams. Design students established regular contact with their Yale counterparts via Skype, email and other communications channels to craft a viable business plan for their product.
After receiving feedback on mid term presentations from faculty and studio partners, teams delved into diagramming systems and details of manufacture, financing, price points, potential distribution centers, sales, marketing and roll-out plans. These discoveries further fueled design updates and refinement, providing a richer sense of the overall process of what is takes to bring a conceptual model to fruition.
Throughout the entire process, student teams needed to fold in and consider the overall Girl Effect in their thinking in terms of messaging, design strategies, consumer/advocate/supporter roles and how their product/systems would complement and reinforce project ideals.
For more information on The Girl Effect Studio outcomes, visit Designmatters' project page.