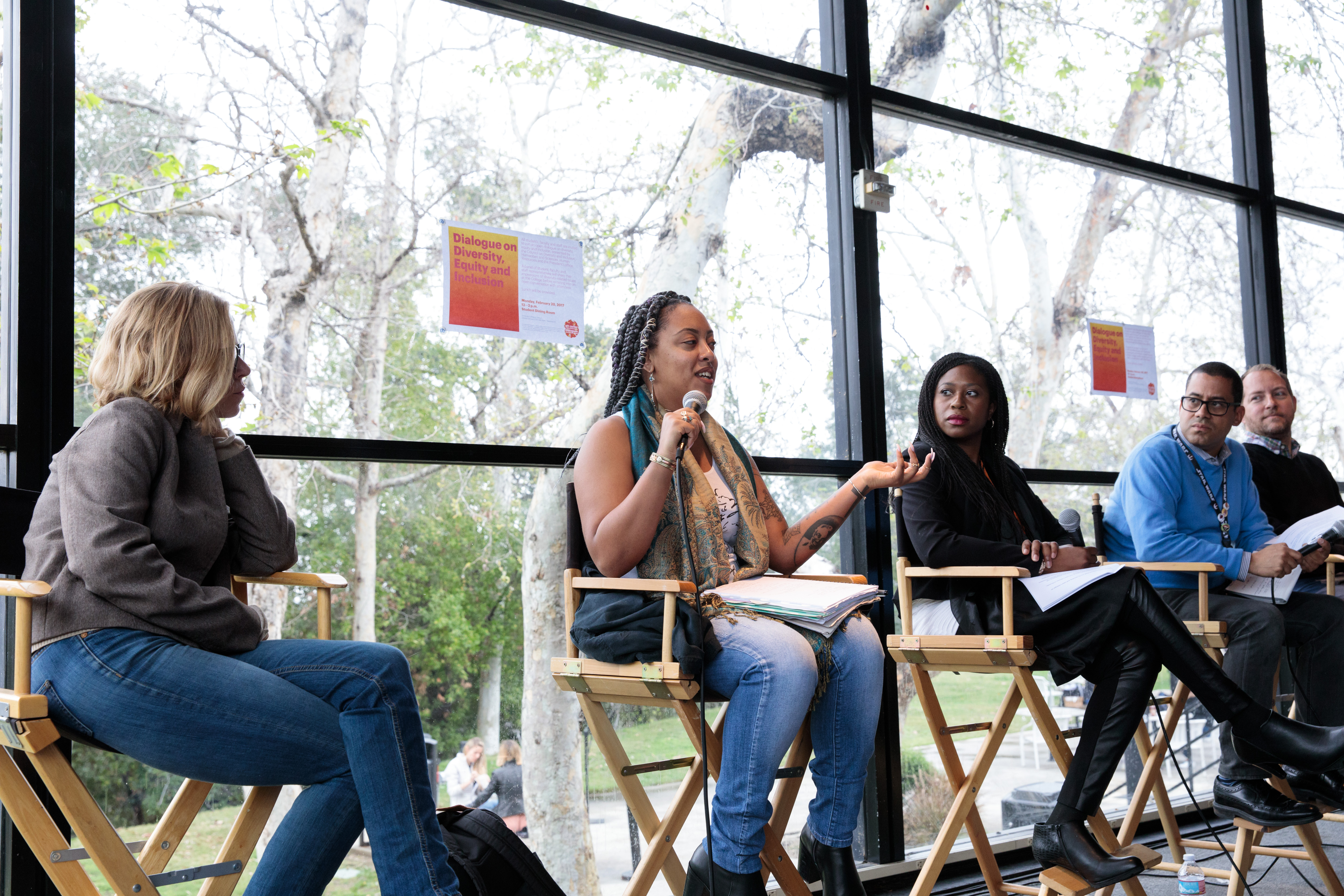 The student dining room was full, the discussion was intense and emotions ran high at the Dialogue on Diversity, Equity and Inclusion Monday, February 20. A panel moderated by Humanities and Sciences Department Chair Jane McFadden and consisting of former Diversity Council Co-Chair and Director of Diversity, Equity, Inclusion, and Title IX Coordinator Lydia Thompson; Illustration student and founder of WOKE, a student organization that seeks to provide, "a safe and open forum to create and grow from a dialogue about social issues and to spread awareness," Kayla Salisbury; Product Design faculty and Faculty Council Co-Chair Pascal Wawoe; and Staff Council Co-Chair and Vice President, Marketing and Communications, Jered Gold, spoke about the College's challenges and resources, fielded some tough questions and listened to valid concerns from the audience.
President Lorne Buchman made brief introductory remarks, noting how important this discussion is at this time, given the context of what is happening in the world and in the country. He said that we need to answer some important questions: "Who are we as a community? How do we interact with each other? How do we deal with each other in moments of disagreement? How do we learn to listen to other's pain?"
He reiterated that, "taking action is essential. None of us should be satisfied if this is merely a talk. This is a time when we need to take action," and concluded his remarks with an introspective reflection of the issues he is consumed with and the places he goes for guidance and inspiration.
The panelists then introduced themselves to the community and shared personal stories about their connections to the topic. They each also posed some questions relevant to this discussion at ArtCenter:
How do we get more alums to donate to ArtCenter scholarships and endowment so that we can create full ride scholarships, which will help diversify the student body?
Is the current social and political climate having an impact on how we view ourselves and how others view us?
How can we bring diversity into the classroom?
How can we encourage students to bring their diverse experiences and backgrounds to assigned projects?
How do we address white privilege at the College?
How do we open the dialogue?
How do we make sure ArtCenter is a safe place?
Convening this dialogue is just one of many ways the College is looking to address issues of diversity, equity and inclusion at the institution. The Executive Cabinet is looking at campuswide policies and positions; the Chairs Council is tackling issues of faculty diversity and classroom and curricular issues; Human Resources is working on staff recruitment and looking at the feasibility of mandatory sensitivity training; the Admissions department is working on recruiting a more diverse student body; and the Council on Diversity and Inclusion, a shared governance group that includes chair, faculty, student and staff representatives, convenes regularly to give guidance to the College on all issues regarding Diversity, Equity and Inclusion.
It is a priority of the College to become a more diverse community but it recognizes that the process presents a number of challenges, including the lack of access to art and design education in our K-12 system, the need to hire faculty from diverse backgrounds, necessary improvements to our investigative process, and a pressing need to educate a large group of faculty on matters related to cultural sensitivity and harassment.
The College has started to take action and more will be forthcoming. We are currently recruiting for both a Discrimination, Harassment, Retaliation (DHR) administrator and Title IX coordinator and two outside contract Title IX/DHR investigators to make sure complaints are swiftly and thoroughly investigated and resolved.
The College recognizes that the current political climate is making a number of people unsettled and that the challenges we face are not unique. We will continue striving to overcome those challenges to create a community that is welcoming and nurturing for all our members.
As President Buchman noted in his opening remarks, quoting Black Lives founder Patrisse Cullors, "Human to human—if you take a moment to be with somebody, to understand the pains they are going through, you get to transform yourself." As a community, it is incumbent on all of us to listen to the pains of our members and, as a community, we will transform ourselves.