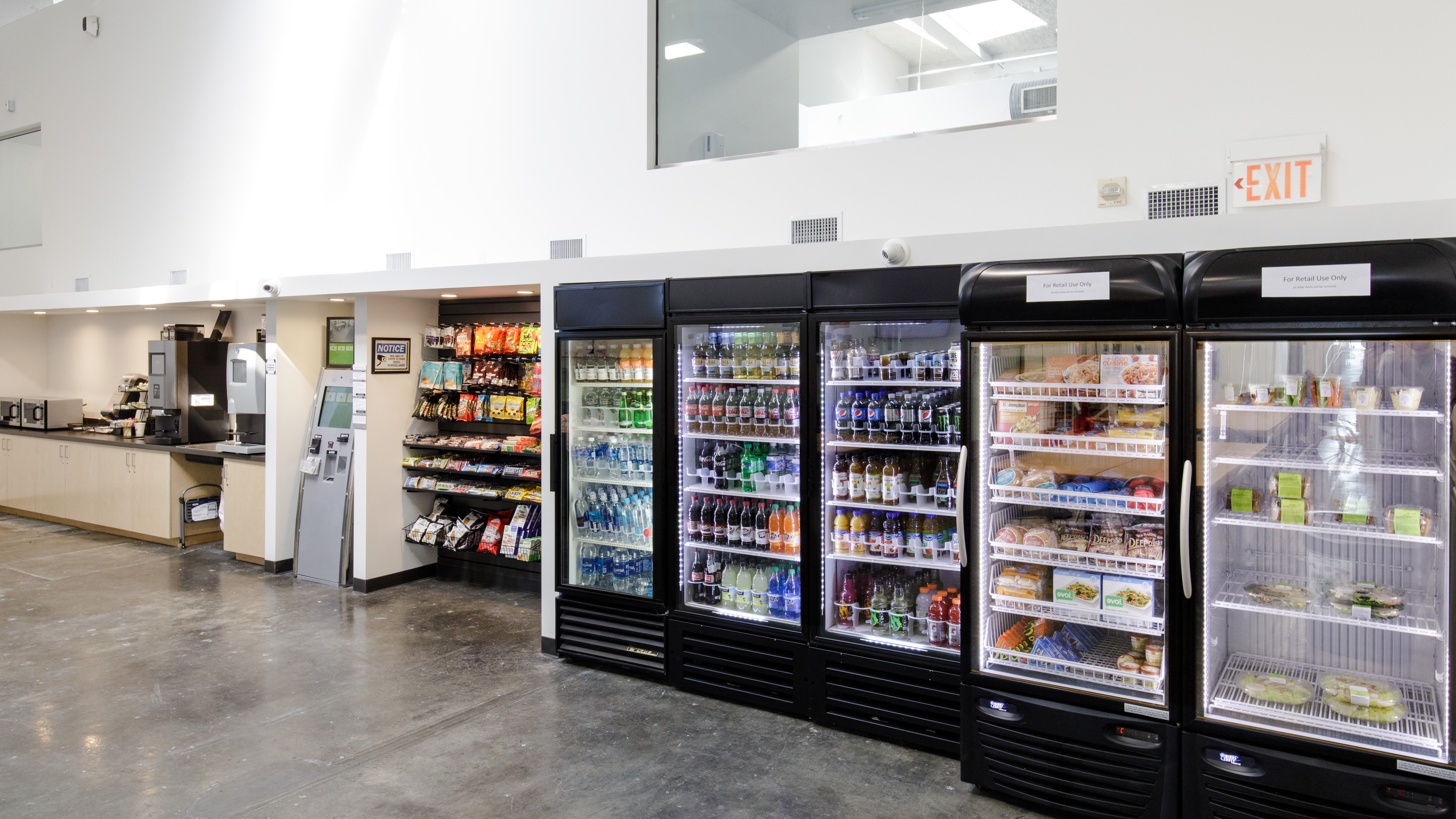 Micro markets are now open and serving food 24/7 in the 950 and 870 buildings at South Campus. There are plenty of food options at the 950 micro market, located on the mezzanine. You can choose from sandwiches, salads and other fresh food that is prepared daily and stocked twice a day. There are also a number of frozen food options, including entrée items, White Castle burgers, breakfast sandwiches and frozen burritos. There are two coffee machines, one offering regular coffee and one offering espresso-style drinks. The espresso machine uses Peet's Coffee that is fresh ground for each drink and it makes a mighty tasty cappuccino. There is also a wide candy selection, plenty of snack options and a number of ice cream choices. The micro market is a grab-and-go operation, where you select your choices and pay at a self-serve machine, similar to a grocery line self-pay. You can use your credit card or load cash onto a special micro market card.
The micro market at the 870 Building is smaller, almost a mini-micro market, but still offers fresh food items, cold beverage selections and a coffee machine. You will need to use a credit card to obtain your items, with payment based on a system of weights and measures.
Both micro markets are accessible 24/7 so you can choose your favorite midnight snack to get you through your latest project. But don't grab and walk off without paying because the micro markets are monitored round the clock with video surveillance.
These micro markets are welcome additions to our South Campus, where the food offerings were slim for students studying into and through the night. Sodexo is maintaining the markets and is open to suggestions for items to be included.
Please send your thoughts to catering@artcenter.edu and make sure to note that the suggestion is for items to be carried in the South Campus micro markets.