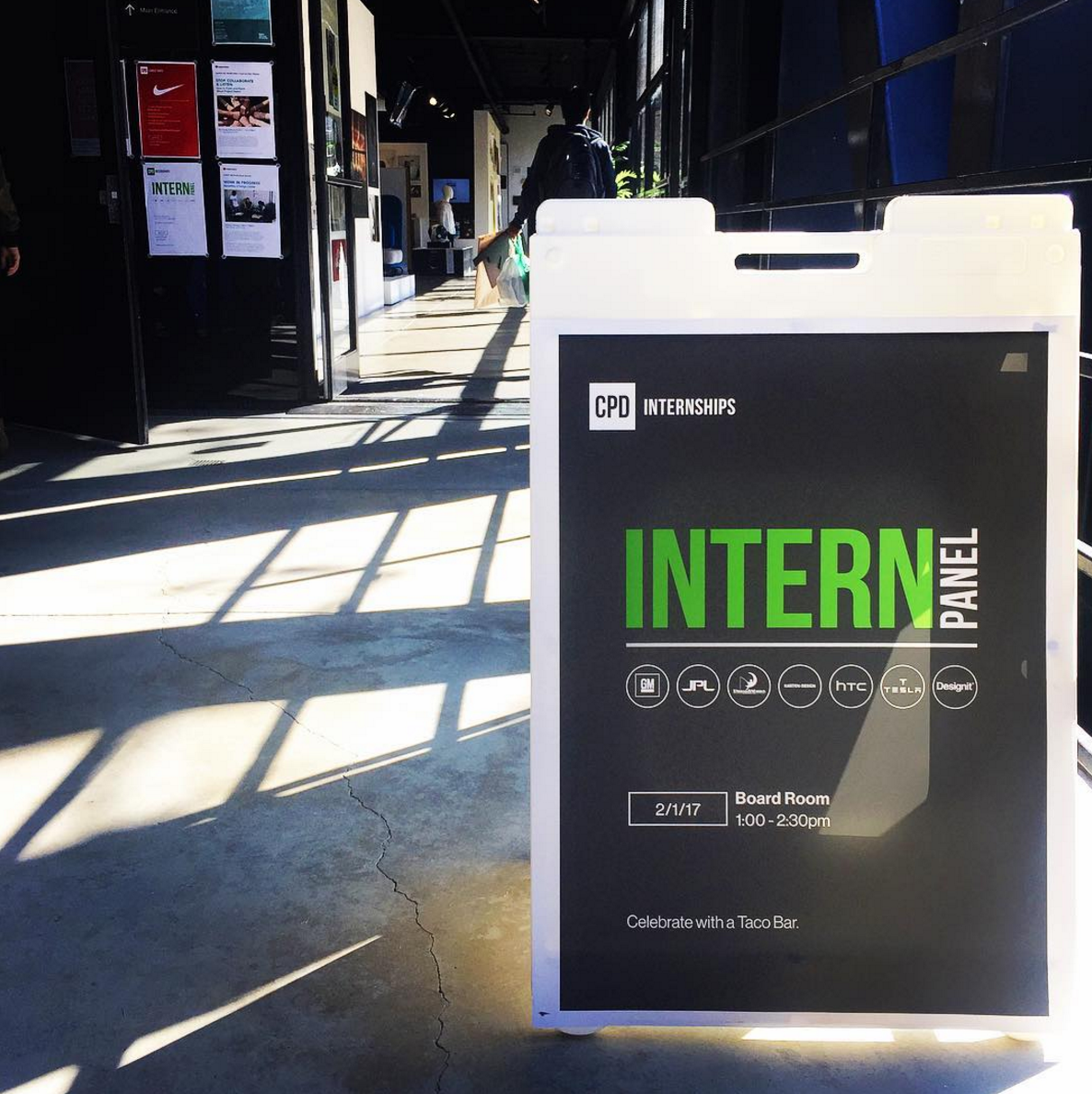 Internships are often seen as "dating" your future employer. They are also a great way to test your skills in the real world and make valuable connections. Over 50 percent of ArtCenter students complete at least one internship during their tenure here.
On February 1, five students shared their internship experiences with a full Board Room of future interns on Hillside Campus: Interaction Design student Minji Gim interned at Designit (Copenhagen, Denmark); Transportation Design student Mason Watson interned at Tesla Motors (Hawthorne, CA) and General Motors (North Hollywood, CA); Illustration/Entertainment Arts student Kristen Psinakis interned at Dreamworks Animation (Glendale, CA); Product Design student Lori Nishikawa interned at Jet Propulsion Laboratory (Pasadena, CA); and Product Design student Kelly Kim interned at Karten Design (Marina del Rey, CA) & HTC (San Francisco, CA).
Here are some insights from the interns:
Don't wait until you are eligible for an internship to start preparing. All participants echoed the advice to get to the Career and Professional Development (CPD) office early in your academic career for invaluable assistance structuring your resume and cover letter. Get to know Internship Specialist Lisa Santacroce. She was called out by all panelists as being an incredibly valuable resource. They also stressed that it was incredibly helpful to have these items ready even before their work was ready for a portfolio.
Practice interviewing. CPD offers workshops on campus. Attend them! In addition to the resume and cover letter assistance referred to above, the interns recommended working with Santacroce on interview skills.
Be persistent. Many of the interns had applied to numerous internships before landing positions.
Network, network, network. A number of the interns landed their internships through connections they made at ArtCenter, such as their department chairs and instructors.
ArtCenter employs a lot of notable instructors. Try to TA for them and then you can add them to your resume.
Once you are at your internship, remember that the organization you are interning for accepted you because you have the chops. Don't be overly intimidated when you find yourself surrounded by smart and talented people. They believe you can add value; that's why they chose you.
Network, network, network. Use your time at your internship wisely to make future career connections. Keep in touch with the people you met during your internship.
An internship will build your confidence. You will learn how to communicate in the workplace. You will find yourself interacting with CEOs, Human Resources, designers, fabricators, everyone…
Internships will give you real world experience working with time constraints. Deadlines have to be met. You will be surprised at how fast and efficiently people work. You will learn how to work smart and work hard. Interns were pleased to note that the pace at ArtCenter helped them keep up in the real world.
Make yourself uncomfortable. Get to know people outside your team.
Internships give you a valuable taste of the organization's culture.
While interning, you get to work a basic work day and have time for three meals a day! You will have time to eat, exercise and see your friends. Coming back to an ArtCenter term can be challenging.
Internships help you learn what you want to do, what your strengths and weaknesses are. You can experience what your day-to-day life will be like in the real world.
It is OK to not to have the perfect internship experience. You will learn what doesn't work for you.
The first step to obtaining your dream internship? Connect with Internship Specialist Lisa Santacroce in CPD and attend CPD programming throughout the term.