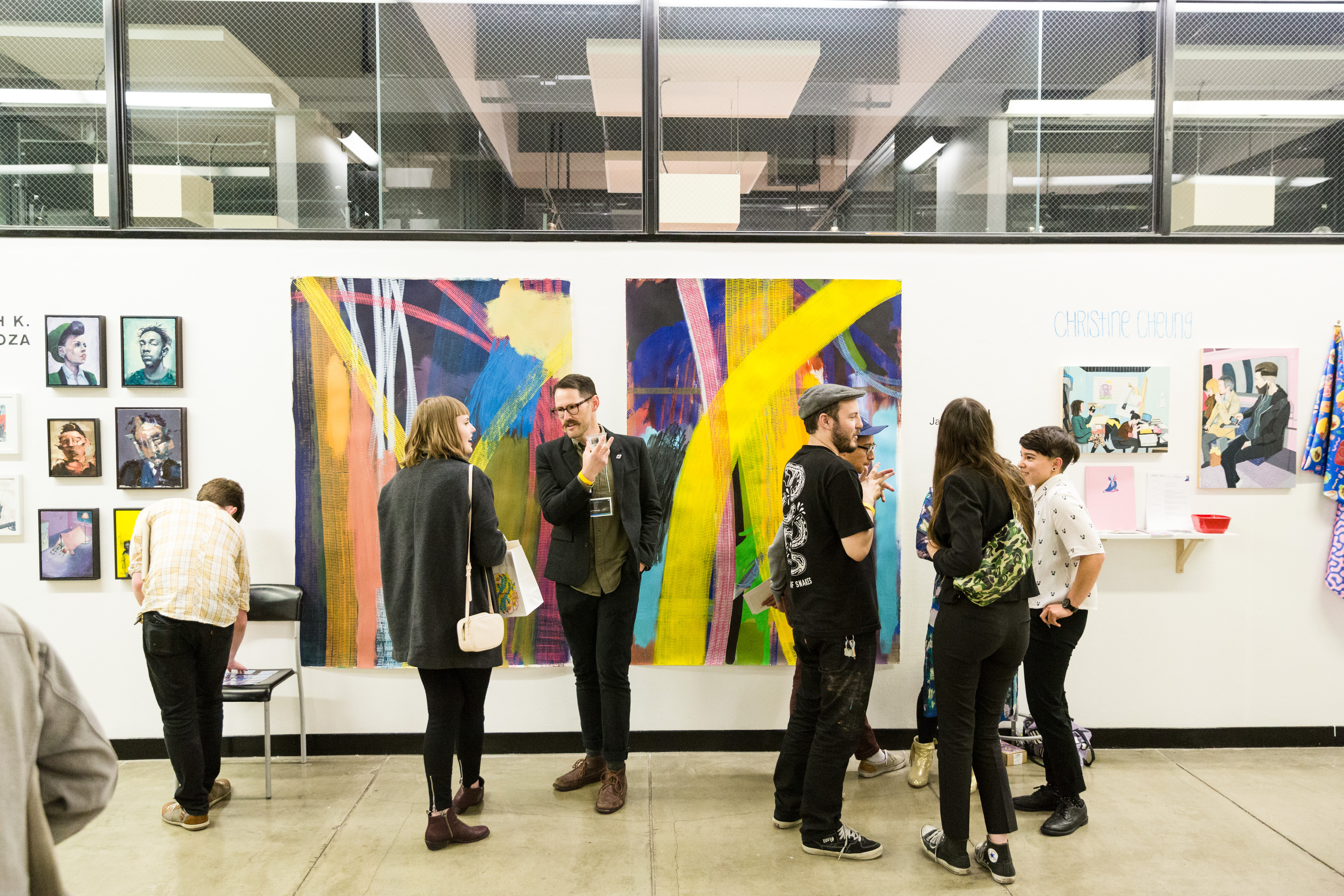 "April hath put a spirit of youth in everything. (Sonnet XCVIII)"—William Shakespeare
This Saturday, following a sometimes exhaustive, always intensive, memorably vigorous and astonishingly creative commitment to making and learning, ArtCenter is going to release a new crop of youthful graduates into the world.
As the day approaches, let's celebrate these creative and talented individuals who are about to take on the world. Here's the lowdown for the week:
Thursday, April 20: Graduation Show Preview, MDP Receptions and Grad Art Open Studios, Fine Art Exhibition
Thursday activities start in the morning, when students get to meet select potential employers during Recruitment Open House. In the evening, industry leaders, employers, corporate partners, donors and alumni get the first look at the Spring term's graduating artists and designers at the invitation-only Graduation Show Preview, held from 6–9 pm.
Undergraduate candidates from Advertising, Environmental Design, Film, Graphic Design, Illustration, Photography and Imaging, Product Design and Transportation Design will be showing at Hillside Campus. Graduate Environmental Design, Graduate Film, Graduate Industrial Design and Graduate Transportation Systems and Design master's candidates will also have work on display at the Hillside Campus.
Graduate Media Design Practices and Graduate Art will be holding a reception and open studios at the 950 Building at South Campus and Undergraduate Fine Art students will have an exhibition at the 870 Building at South Campus. The South Campus locations will be open from 7–10 pm.
Saturday, April 22: Graduation
ArtCenter's Spring graduation ceremony begins at 10 a.m. at the Pasadena Civic Auditorium.
Following welcoming remarks by President Lorne Buchman, the baccalaureate and master's candidates—along with faculty, staff, family and friends—will hear from this term's Student Leadership Award recipient. The Student Leadership Award is given out each term to a student who exemplifies standout leadership qualities and accomplishments. This term, a committee of students, faculty, and staff affirmed the values of this award by selecting to Product Design major Jeff Smith. Faculty member Fridolin Beisert, in nominating Smith, said "I have had the distinct pleasure of seeing Jeff mature into a leadership role where he is guiding and inspiring student across disciplines, genders and cultural backgrounds. To me he represents the ideal candidate for this important award."
Those assembled at the Civic Center will also hear from valedictorian Eliot Eames Saarinen, who is graduating with a degree in Fine Art. Fine Art Director Mitchell Kane noted that, "Eliot is a meticulous maker and thinker of objects with visionary tendencies tempered by real world practicalness."
Following the student awardees, special guests Janice Feldman and Story Musgrave will be bestowed with honorary degrees (Doctorate in Fine Arts) from the College and Musgrave will present the graduation address. Feldman and Musgrave, two diverse individuals whose work is informed by their sense of "space," spoke with President Lorne M. Buchman before a select audience as part of a Full Circle event on Thursday night.
Trained artist and interior designer Janice Feldman is the founder and CEO of JANUS et Cie, an industry leader in residential, contract and hospitality design. A visionary in the field of sustainability and material innovation, Feldman opened her first JANUS et Cie showroom in the Pacific Design Center in California in 1978, and has since transformed the company into a full-service design resource with extensive and varied collections.
Graduate Industrial Design faculty Story Musgrave, a NASA astronaut for more than 30 years, has flown on six different spaceflights. He performed the first shuttle spacewalk on Challenger's first flight, was a pilot on an astronomy mission, conducted two classified DOD missions, was the lead spacewalker on the Hubble Telescope repair mission and, on his last flight, operated an electronic chip manufacturing satellite on Columbia.
Saturday, April 22: Graduation Show
After the ceremony, Graduation Show opens to the public at both Hillside and South Campuses from 1–6 p.m., where work by the newest ArtCenter graduates will be on display. The show features student projects from major fields of study at ArtCenter, including Advertising, Environmental Design, Film, Graphic Design, Illustration, Photography and Imaging, Product Design, Transportation Design, Graduate Film, Graduate Industrial Design and Graduate Transportation Systems and Design at Hillside Campus. Work from Graduate Art and Graduate Media Design Practices graduates will be on display at the 950 Building and Fine Art graduates will be showing at the 870 Building at South Campus.