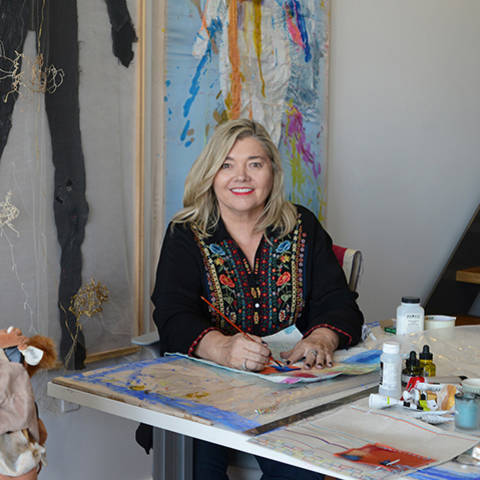 Antoinette Adams is the first to admit she's not your typical art student. Just before her 50th birthday, she made a life-changing decision to go back to school as soon as her youngest child was old enough to drive. The bold choice to enroll at ArtCenter seemed an impossible dream after a long career as an attorney.
With trepidation based on the 20-year plus age gap between her and fellow Fine Art majors, she persevered and happily established lasting bonds with a close-knit family of artists.
Forever moved by the thrill of stepping onto campus and the encouraging, yet brutally honest, community of artists she's now firmly a part of, Adams is giving back to the college that changed her life forever. She recently donated $50,000 to fund scholarships and Study Away travel expenses for an annual art sojourn to Berlin, Germany.
"We're grateful to Antoinette for this generous gift to help our talented current students cover their educational expenses as well as provide vital support to recent alumni with the launch of their careers as working artists," said Tom Knechtel, chair of the undergraduate Fine Art department at ArtCenter College of Design.
The gift from Adams, who graduated with her degree in Fine Art in 2015, is set to fund two new programs that will benefit enrolled students and recent alumni of the Fine Art department. Adams is a resident of downtown Los Angeles and also has a home in Berlin.
Kicking off this fall (2017), the Antoinette Adams Alumni Award will provide a recipient with studio space in ArtCenter's 35,000 square foot building at 870 South Raymond Avenue, a thriving collaborative nucleus for the visual arts. The alumnus, to be selected by faculty, will receive a $2,000 stipend for two 14-week terms. Additionally, the chosen individual, who will have been out of college for at least two years and no longer than 10, will curate an exhibition of student work, help seniors prepare solo shows and present a talk about their own work.
"We anticipate that when alumni with life experience come to work in our studios alongside current students, they'll engage in useful conversations about life after ArtCenter," said Knechtel.
The gift is also set to provide travel stipends to make a Berlin trip possible for several students and alumni through the College's robust Study Away program. During the excursion, students and alumni will have the opportunity to experience the depth and excitement of the museums, galleries and cultural life of Berlin. Covering expenses such as airfare and museum passes will be a tremendous relief for ten artists in the Fine Arts community. Adams plans to host both "welcome" and "farewell" dinners for the group at her home in Berlin.