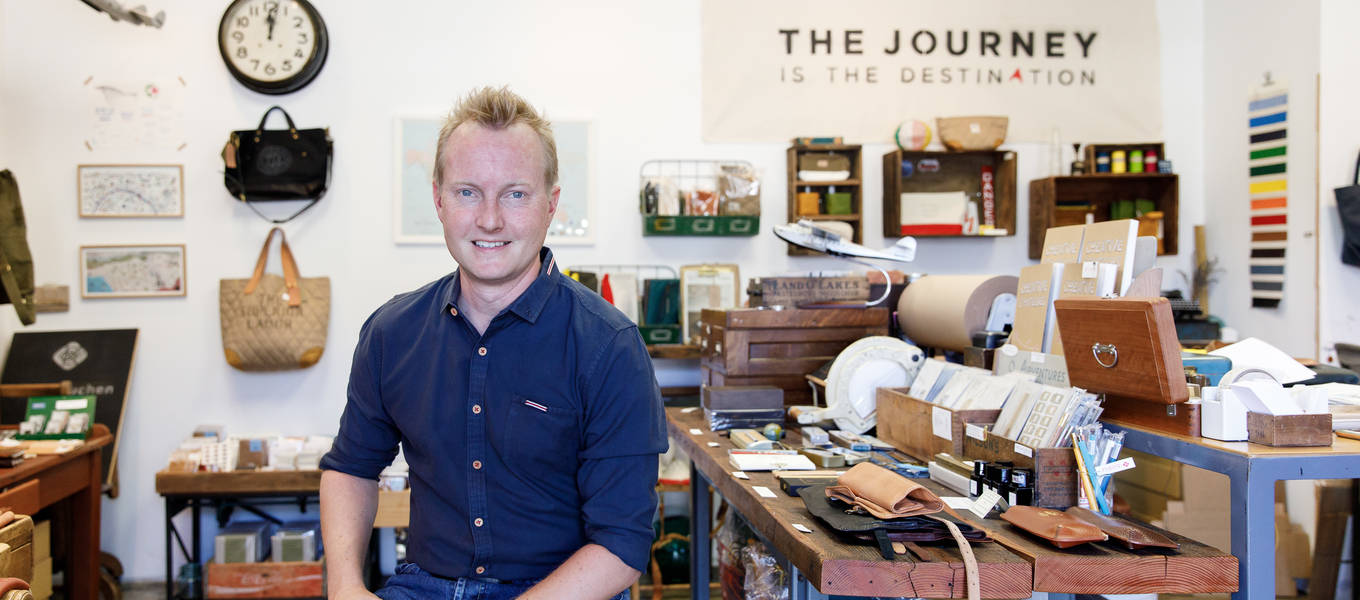 Can you teach creativity? According to alumnus and ArtCenter instructor Fridolin "Frido" Beisert (MS 08 Industrial Design), the answer to that question is an unequivocal "yes."
The author of Creative Strategies, a book that offers 10 approaches to solve everyday problems, Beisert asserts that the creative process is a skill that can be learned and practiced just like riding a bicycle.
"I see evidence of this regularly in my classroom where students with an open-minded approach produce far greater creative leaps in their work," said Beisert, who has 18 years of experience working as a professional designer while also teaching at the College's Pasadena campus.
Beisert's goal for Creative Strategies, written in a breezy style with plenty of humor, is to help artists and designers eliminate the fear of failure and gain the freedom and confidence to approach any task. The book features illustratations by ArtCenter alumna Jessie Kawata (BFA 11 Illustration) and the cover was designed by alumna Tomo Ogino (BFA 12 Graphic Design).
The 10 creative strategies featured in the book, published by Design Studio Press, are about using both the right and left hemispheres of the brain simultaneously and in harmony, responding to challenges with a flexible mind.
In the book, Beisert lays out what he believes are key steps in the creative process. These steps include: identifying the blind spot, refueling on inspiration, and reality hacking. One chapter is devoted to 10 ways to live more creatively.
And Beisert should know.
Prior to his current roles as creative director of Baum-Kuchen studio and a director in the Product Design department at ArtCenter, he worked in Tokyo developing futuristic video games, played as an international underground deejay, and studied traditional arts and crafts in Japan.
At ArtCenter, Beisert has taught creative problem solving, design innovation and dynamic sketching to thousands of young designers. More broadly, Beisert teaches what is often referred to as design thinking, an area of study that merges business and design and uses close, almost anthropological, observation of people to gain insight into problems that may not yet be articulated.
In a nod to ArtCenter's famous culture of critique that has been a rite of passage for decades in the College's classrooms, he explores the value of "Crit Culture" in Creative Strategies.
In fact, the book functions as an excellent primer to ArtCenter's pedagogy. Beisert refers to this as the College's "secret sauce" which has produced some of the world's most respected designers of automobiles, technology, footwear and furniture.
"Frido is by far the greatest instructor of my life," said alumnus Andrew Kim (BS 13 Product), Tesla's lead designer who wrote the book's forward. "But he's the scariest man I've ever met."
Quirky? Sure. Eccentric? Definitely. But "scary?"
Well, Beisert's enthusiasm for getting to the core of a problem or challenge can sometimes border on obsession. But it's an enthusiasm whose results are hard to argue.
Many of his students have gone on to leadership roles for some of the world's most innovative companies, including Adidas, Airbnb, Facebook, Google, Nike and Under Armour.
"If it weren't for his class, I would have never approached design the way I do today," wrote Kim about Beisert. "I discovered a newfound clarity and began to see paths to a solution that I was previously blind to."
These paths were not something that Beisert saw immediately either.
While a graduate student at ArtCenter's top ranked Industrial Design department, Beisert spent two years researching prototype methods on how to teach creativity.
During his career, he recognized that creativity was indeed a skill that he had learned, but he didn't exactly know how he had acquired this ability. So he set out to discover the secrets of creativity pedagogy by first analyzing the evolution of his own design process. The journey from that analysis lead to writing Creative Strategies.
"The most important thing I learned is that I could achieve anything I want in life as long as I set my mind to it," said Beisert.