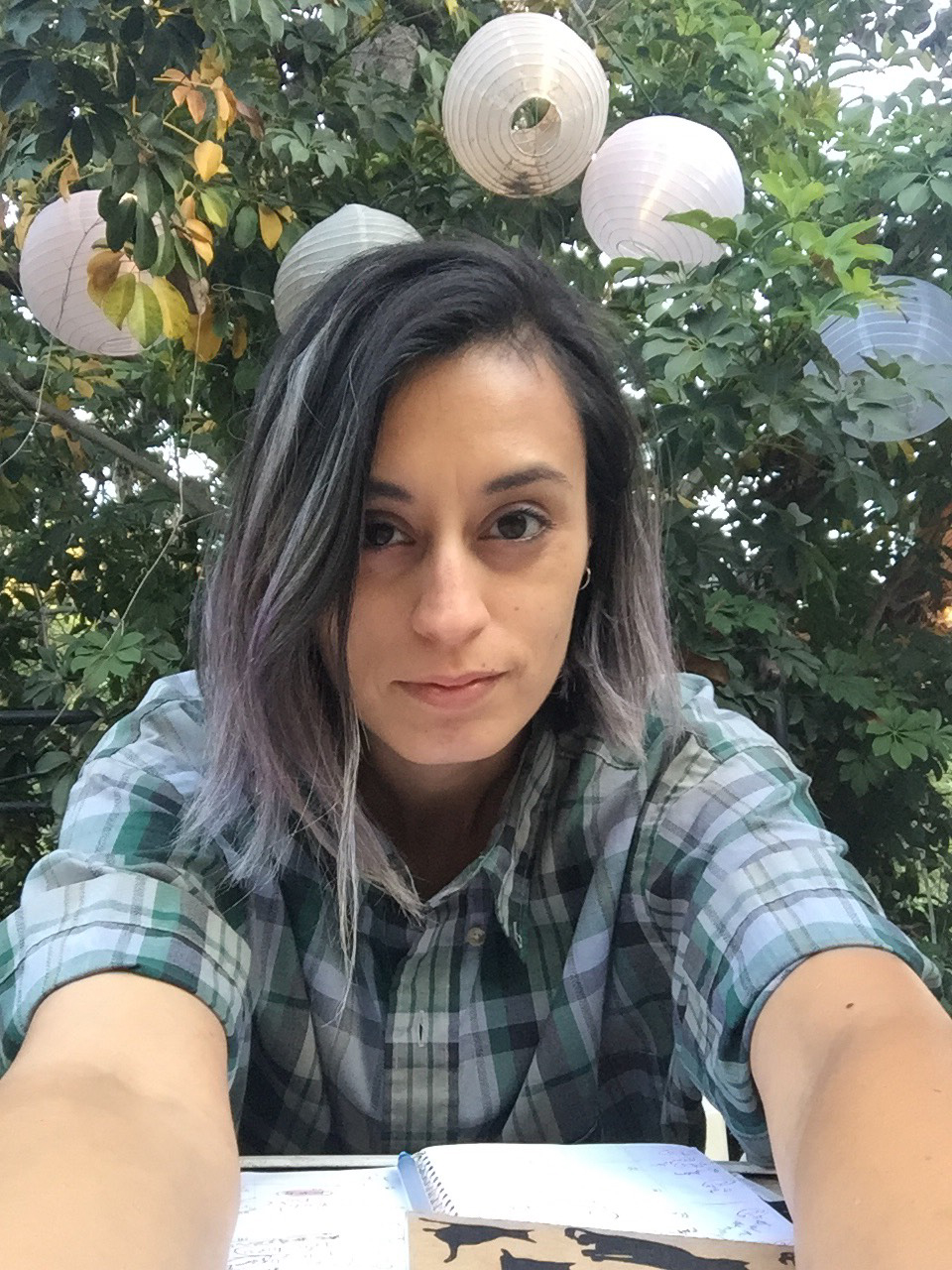 This Summer, poet, girls' rock band camp counselor and Humanities and Sciences faculty member Rocío Carlos participated in a panel, Poetry as Witness, at the Allied Media Conferencein Detroit. We caught up with Carlos shortly after her trip to find out a little more about her role at ArtCenter, her work as a poet and teacher, and her experience presenting at the conference.
What classes do you teach?
I have been teaching at ArtCenter since January 2012. I teach writing courses such as Writing Studio, Writing Studio: Intensive, and Narrative Strategies. Also Literature courses such as The Heroine and Immigrant and First Gen Voices in American Lit. The course I'm most excited about is a participatory poetry course offered this past Summer Term called You Are Here: Poetry in and of Los Angeles.
What is your research about?
My work concerns itself with the possibilities of witness and cartography, and the role of the poet as observer/participant.
Can you tell us a little about the conference and your experience presenting?
The Allied Media Conference is held every summer in Detroit—according to its website, "it brings together a vibrant and diverse community of people using media to incite change: filmmakers, radio producers, technologists, youth organizers, writers, entrepreneurs, musicians, dancers and artists."
I presented on a panel titled "Poet as Witness." My participation was in partnership with the independent Los Angeles press Writ Large Press, whose editors seek to give voice to authors overlooked by systemic biases. My work "Attendance," published by poet and editor Chiwan Choi in the online magazine Cultural Weekly was a factor in being selected for the panel, but for me, my selection was also directly related to the course I taught in the Summer term, You are Here: Poetry in and of Los Angeles. In the course, students attended poetry events in the city and wrote poetry of witness and documentation as an exercise of resistance against erasure of marginalized spaces and experiences and as an exercise of cartography. In addition to being an opportunity to present my praxis as a poet, it enriched my pedagogy and directly informed my curriculum at ArtCenter.
The experience of presenting was both thrilling and humbling. I was excited to propose that poetry could be a tool of documentation even as it maintained a kind of beautiful mystery, that when we look back at movements of struggle against erasure, that the poetry as much as legal briefs or historical analysis, will tell the story of human experience. And that as much as any finely-made thing, such as a painting or a film piece, a poem acted as a capsule of context and impact.
ArtCenter funded* my flight and housing for the duration of the four-day conference. Without their support, my participation would not have been possible. I am an adjunct faculty, which means I am not promised any number of courses. Summers are particularly light in course-load, which means I must choose between expenses carefully. That ArtCenter did this for me even as a part time faculty communicated to me that they value exploration in all fields (even poetry!) and that they believe in my pedagogy and methods. This is a wonderful feeling. I admire their commitment to their faculty in this way.
How is your research informed by your teaching?
The classroom is naturally where a lot of questions and problem-solving opportunities present themselves, through group discussions and thinking together about readings or the living field of poetry. I'm quite grateful that my students believe in problem-solving in the fields of art and design. We are able to experiment with form and style and ask ourselves what the role of the poet and work out what poetry looks like when the poet's role is this or that. Specifically, when the poet's role is as witness.
How is your teaching informed by your research?
In my poetry workshop You Are Here: Poetry in and of Los Angeles, we exercised adopting constraints and parameters informed by a kind of poetics of place. Context and impact are explored, just as in creating a prototype for a product. Aesthetic and genre are considered, just as in creating a fine-art piece or film. Since my field research and practice is a participant in the field of poetry, observations and problems I encounter in the field are entertained in class.
How have your students changed you or your work?
Since for at least a term, they too are gathering observations and language systems in the field and arranging them for prompts and making decisions about language in order to convey a voice or a style, their problems are problems I too consider and try to solve in my own work.
You mentioned you volunteered as a camp counselor for a girls' rock camp. Can you tell us a little about that?
Girls rock camps began springing up a little under 20 years ago to foster a sense of empowerment when it came to making music. Girls and women may not be visible in music, even though there are women working in the industry as game-changing producers (Sylvia Robinson, the godmother of Hip Hop) or capable instrumentalists on tracks we know well (bassist Carol Kaye who played with the Beach Boys, Neil Young and many staples of American Pop). When girls and women seem most visible it may be as muses, as back-up singers or dancers or as fans clamoring for an artist's attention. Girls may be directly or indirectly discouraged from playing instruments or taking risks or making noise.
Chicas Rockeras of South East L.A. is one of many such rock camps for girls, specifically located in a working-class, mostly immigrant, bi-cultural and bilingual, mostly brown and black community. This is where I grew up. As a camp counselor or "band manager," I stayed with my "band"—a group of five girls between 14-15-years-old—throughout the day as they moved from instrument practice to workshops to band practice. I watched five strangers become creative collaborators. The girls learned rudimentary instrumentation, formed a band, wrote a song, designed and hand printed band shirts and played a showcase at the end of five days. It was important that I grew up where they grew up. That I went to college and returned to foster creativity in my community. That I validated and affirmed their home cultures and languages. And I am so grateful that I was able to do this.
What's something you aren't good at, but wish you were?
Well, there are things that I don't work enough at but want to be great at, like other languages (I love being multi-lingual) or dance (I danced one form for about 16 years and recently switched form and it's difficult). Also playing drums.
*Carlos' participation in the conference was supported by a grant from ArtCenter's Faculty Professional Development Fund, a new opportunity at ArtCenter for Faculty members to engage with peers through national or international non-profit professional settings – specifically presenting or being featured on a panel at conferences, or professional organization meetings, or speaking engagement by invitation in a not-for-profit situation. For more information about the Fund, contact Sam Holtzman.